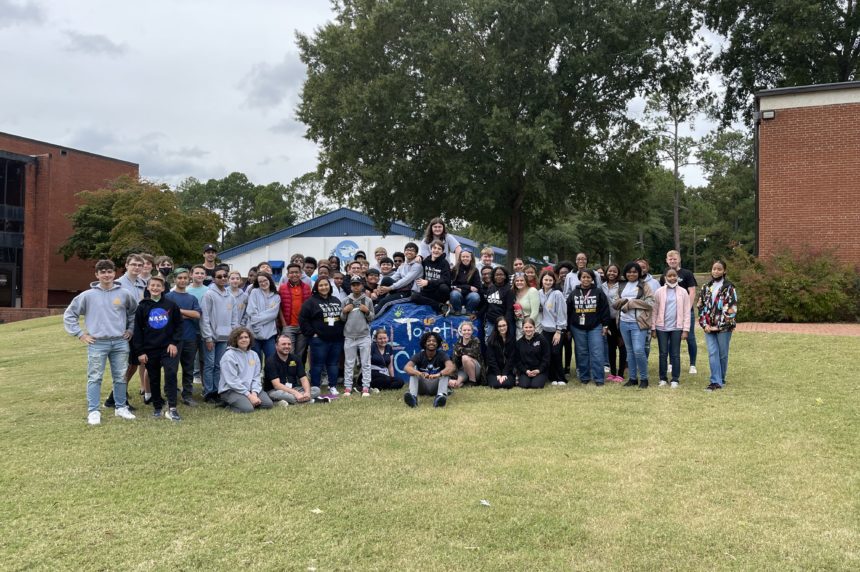 Chowan University Welcomed Roanoke Rapids Early College Students 
Sep 30, 2022
by Kim Sherman Bailey
On Thursday, September 29, almost sixty 9th and 10th grade students from Roanoke Rapids Early College High School visited Chowan University. According to Mrs. Angela Rowe, School Counselor, this is "the first college visit we have been able to take since covid, and we have thoroughly enjoyed the day."
The students arrived and were greeted by the Admissions Staff, who shared with them what Chowan offers students through academics, athletics, and student life. They were able to hear some of the success stories from our alumni. The group then toured the campus led by current students and Admissions Tour Guides Caleb Peterson, Ke'Shawn Taylor, and Dennis Bates. The students visited the freshmen residence halls to see student living spaces and were able to interact with passing students who were on their way to classes and practices. They visited our main academic buildings, where they got to see classes taking place and what a college classroom setting looks like.
After the tour, the group enjoyed lunch in Thomas Hall Cafe surrounded by many Chowan students, faculty, and staff, giving them a first-hand experience of being a college student. After lunch, the visit was wrapped up with an overview of how the day went and how they enjoyed seeing the campus and hearing about Chowan.
For more information about visiting Chowan University, visit chowan.edu/visit or contact the Office of Admissions at 252-398-6230 or admissios@chowan.edu.