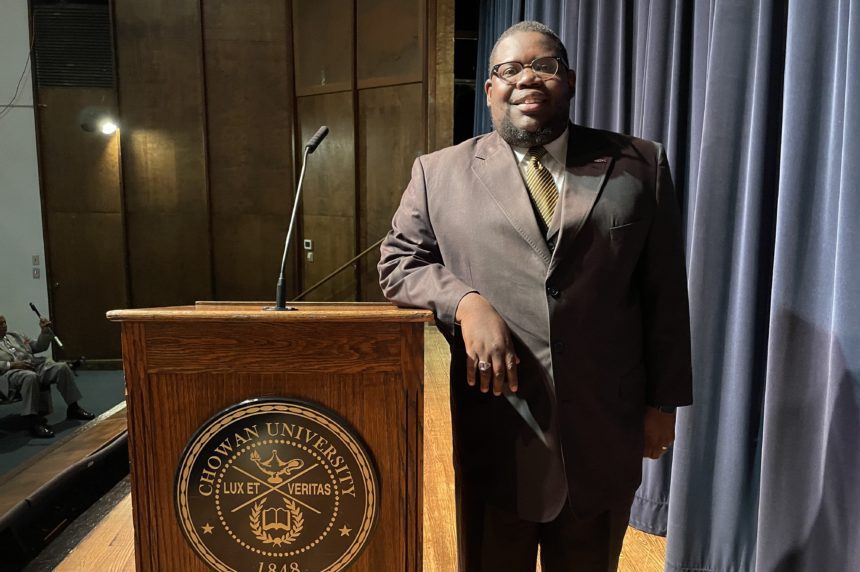 Rev. Dorian Daniels Preaches "Still More Worth Fighting For" at Chowan University Chapel Service
Sep 16, 2022
by Lou Ann Gilliam
Rev. Dorian Daniels was the guest proclaimer at Chowan University's Chapel service held on Wednesday, September 14. Rev. Daniels is the pastor of New Ahoskie Baptist in Ahoskie and is a member of the Chowan University Ministerial Board of Associates. Rev. Daniels, a Washington, DC native, holds a B.A. in Music from Virginia State University in Petersburg, VA. He earned his Master of Divinity from the Samuel DeWitt Proctor School of Theology at Virginia Union University in Richmond, VA.
Currently, Daniels is pursuing a Ph.D. in Interdisciplinary Studies Concentration in Humanities & Culture, specializing in Martin Luther King St. Studies at Union Institute & University in Cincinnati, Ohio. He is active in the community and is a member of the Alpha Phi Alpha Fraternity, Inc. Rev. Daniels is married to Teaira Grandison Daniels, and they have two children, DJ and Sharrell.
After giving a heartfelt introduction to Rev. Dorian Daniels, Minister to the University, Rev. Mari Wiles opened the chapel service in prayer. Following the prayer, Rev. Daniels began his message by reading Exodus chapter 1 with emphasis given to verse 8 "Now there arose a new king over Egypt, who did not know Joseph." Using this text, Daniels discussed how difficult life was for the Israelites under the Pharoah. Pharoah did not value the Israelites nor their God.
Daniels eloquently shared that college students have their own 'Pharaohs' which can be anything from the stress of social media to circumstances out of their control. He encouraged students not to allow these challenges to keep them from pursuing God and their education. 
A frequent refrain in Daniels' remarks was "still more worth fighting for." He cited the midwives in Exodus who fought to protect the Israelite babies that were under Pharoah's threat. The midwives knew God valued them and the babies.
Daniels briefly revealed his own vulnerabilities as an undergraduate student, reminding students they are not alone. Daniels pulled in insightful stories as well as Langston Hughes' poem, "Mother to Son." He concluded his remarks with a portion of a favorite hymn, "Never Alone." Daniels' timely message was well received by the students.
For more information about Chowan University's Chapel service, you may contact Minister to the University, Rev. Mari Wiles at wilesm@chowan.edu.