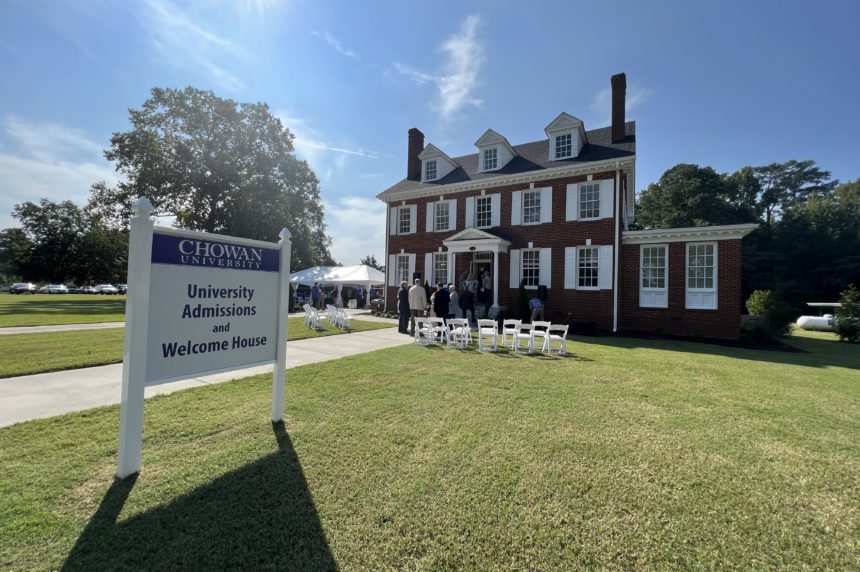 Chowan University Celebrates University Admissions and Welcome House Opening
Sep 16, 2022
by Kim Sherman Bailey
On Thursday, September 15, 2022, Chowan University hosted a ribbon cutting and open house for the newly renovated University Admissions and Welcome House. The celebratory event featured remarks by Kirk E. Peterson, President; Kemper Baker, Chairman of the Board of Trustees; John Yancey, Vice President for Enrollment Management, and dedicatory prayer by Rev. Mari E. Wiles, Minister to the University. Daryl Williams, Executive Director of the Murfreesboro Chamber of Commerce, participated in the ribbon cutting.
The University Admissions and Welcome House property has historic significance in Murfreesboro and the greater region as Wesleyan Female College, which opened in 1853, occupied this site. Dr. and Mrs. L.M. Futrell acquired the property and built the home used today. Dr. Futrell was a revered physician serving the greater Murfreesboro community for many years and their daughter Margaret DeLoatch and her husband Charles, along with their children, became the occupants following the death of her parents. Margaret was faithful to her church, community, and alma mater (Chowan), having served as a member of the Board of Trustees.  
In 2019, the university acquired the property, and it was ultimately decided that it would best serve the university and community as the Welcome House that hosts the Office of Admissions. "What we have celebrated in many respects is Margaret's vision becoming a reality," shared John Tayloe, Assistant to the President and Executive Director of Major Gifts and Planned Giving. "She hoped Chowan would become the ultimate owner of her home and that it would be used strategically for the institution's benefit."
Dr. Peterson began the event by acknowledging and thanking all that gave of their time and talents to transform the house into the beautiful facility enjoyed today. The University facilities department renovated the building almost entirely. First Lady Rachel Peterson, Board of Trustees member Austine Evans, and Penny Rose decorated the facility. "This project wraps up a significant phase in the university's history," shared Chairman Baker. "This building is the face of the university for arriving visitors and is a welcoming environment."
Following the ceremony, attendees toured the facility viewing the entry and lobby where guests are greeted, conference room, offices, and a large great room for prospective students and their families to meet with admissions personnel. The upstairs houses the offices for the admissions officers.
Located at 100 High Street, adjacent to the main entrance of the university, the University Admissions and Welcome House is open during normal business hours, Monday through Friday, 8:30 am to 5 pm. Prospective students and their families can learn more about campus visit offerings, including Saturday options, at chowan.edu/visit.