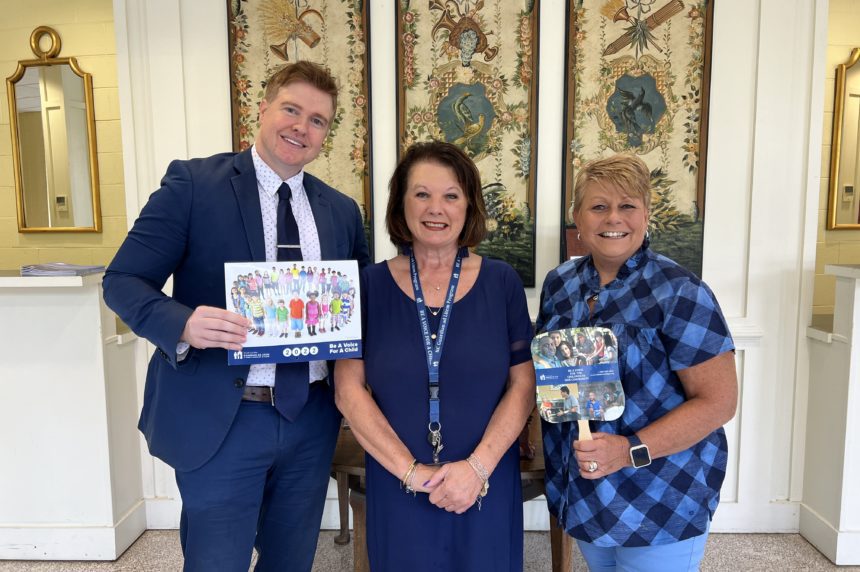 (left to right) Dr. Phil Entzminger, Assistant Professor of Criminal Justice, Judith T. Jones, Supervisor for Guardian ad Litem, and Dr. Pamela Woodard, Associate Professor and Chair of the Criminal Justice Department
Chowan University Criminal Justice Partners with Guardian ad Litem Program 
Aug 23, 2022
by Kim Sherman Bailey
The Chowan University Criminal Justice Department established a partnership with the North Carolina District 6 Guardian ad Litem Program. Through this partnership, Chowan University students will have the opportunity to apply for, train, and become a Guardian ad Litem (GAL) for internship credit.
The North Carolina Guardian ad Litem accepts and trains community volunteers to serve as advocates for abused and neglected children. Students interested in becoming a GAL should apply online at https://volunteerforgal.org/. Accepted candidates will undergo 30 hours of training in approximately five weeks before being sworn into the program. Assigned cases would mainly be in Hertford, Halifax, and Bertie Counties, and the GAL is required to visit the child one time per month and use a supplied template to create reports for the court. The GAL is encouraged to attend court sessions related to their cases through the program.  
"This program is a great opportunity for all of our students, especially those who want to advocate for children and may be interested in careers in social work, the courts, or those that want to apply to law school," shared Dr. Pamela Woodard, Associate Professor and Chair of the Criminal Justice Department. "This provides students with a first-hand look into what happens in court proceedings and the importance of advocates." She continued sharing that she is "excited for this partnership, and we are especially thankful for Judith Jones at Guardian ad Litem, who is a Chowan graduate."
Judith T. Jones, Supervisor for the GAL Program, expressed that she is eager to "partner with Chowan University and provide opportunities for students to have experience in advocating for abused and neglected children, and to work the court system."
For more information on this partnership, contact Dr. Pamela Woodard at pcwoodard0801@chowan.edu.
About Guardian ad Litem
Throughout North Carolina, the Guardian ad Litem Program seeks to serve the best interests of thousands of children who find themselves the subjects of court cases by assigning them Guardian ad Litem volunteers. Our program exists in every county throughout the state, and we serve more than 15,000 children a year.
What is a GAL?
A Guardian ad Litem advocate is a trained community volunteer who is appointed, along with a Guardian ad Litem attorney, by a district court judge to investigate and determine the needs of abused and neglected children petitioned into the court system by the Department of Social Services. Their role is mandated by North Carolina General Statute 7B-601.