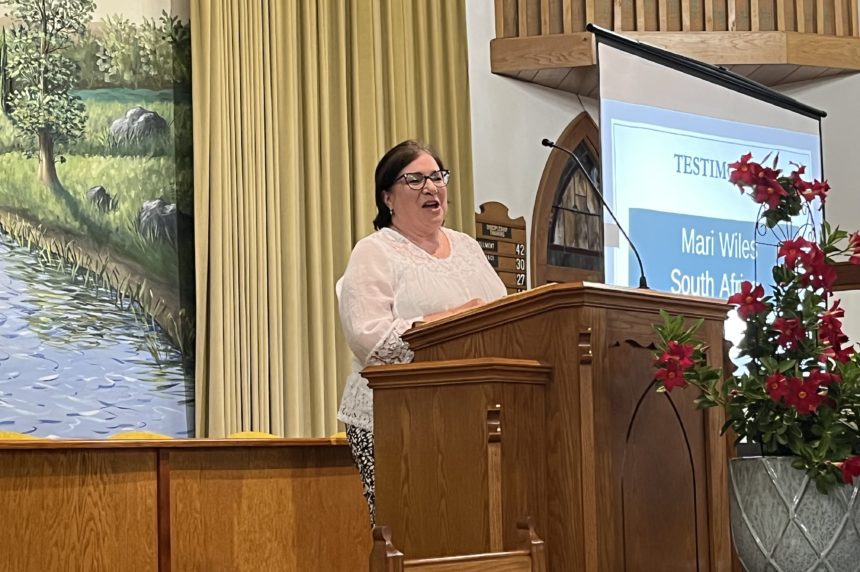 Rev. Mari Wiles represents Chowan University at Baptist on Mission Region One Rally
Aug 24, 2022
by Lou Ann Gilliam
On Tuesday, August 23, Minister to the University, Rev. Mari E. Wiles was one of the guest speakers at the North Carolina Baptists on Missions Region One Rally held at Askewville Baptist Church in Askewville, NC.  
Rev. Wiles shared about the two mission trips Chowan Campus Ministry has taken to the Door of Hope in Johannesburg, South Africa. The Door of Hope ministry rescues abandoned babies. Wiles shared she has "seen the impact of this powerful ministry for vulnerable babies and seen the impact on the students who served. It is a place where you can go and join God in some holy work."
Rev. Wiles often partners with Baptist on Mission for the Chowan University Mission Trips. She has led teams to Johannesburg and Cape Town, South Africa, Haiti, Hawaii, Lumberton, NC, and Shelby, NC. Wiles shared, "the partnership with Baptist on Mission has been a gift to Chowan Campus Ministry. They are serving 'real-time' needs with disaster relief and local and global requests. The leaders have always been eager to work with any unique challenges we might have and have always welcomed our students to be Global Gospel Citizens. I am thankful for the doors they have opened to our students, and the impact is God size."
Continuing in partnership, three leaders from Baptists on Missions are the featured guests at Chowan's 2022 Taylor Religious Heritage Lecture Series, September 19-21 in McDowell Columns, Turner Auditorium. Monday's lecture will feature Executive Director-Treasurer Richard Brunson. Missions Mobilization Coordinator Paul Langston is the guest lecturer on Wednesday, September 21. Tom Beam, Disaster Relief Coordinator, is the keynote speaker at the Chowan Christian Service Association Dinner on Tuesday, Sept 20.
To learn more about Chowan Campus Ministry contact Rev. Mari E. Wiles at wilesm@chowan.edu.