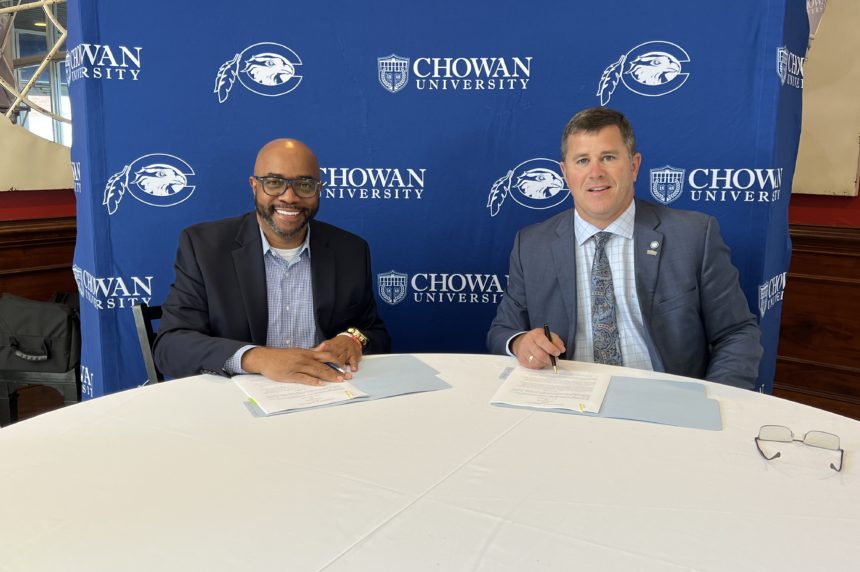 Dr. Otis Smallwood, Superintendent of Bertie County Schools and Chowan President, Dr. Kirk E. Peterson
Chowan University Signs Partnership Agreement with Bertie County Schools
Aug 11, 2022
by Kim Sherman Bailey
On Wednesday, August 10, Bertie County Schools leaders gathered at Chowan University to sign a partnership agreement that offers a framework for sharing resources to increase quality education and allow greater access to Chowan's teacher education graduates.
Chowan President, Dr. Kirk E. Peterson, and Dr. Otis Smallwood, Superintendent of Bertie County Schools, signed the agreement for the partnership. Present to celebrate the occasion was Dr. Linda Bullock, Executive Director of Curriculum and Instruction for Bertie County Schools, Michael White, Executive Director of Human Resources for Bertie County Schools, along with Chowan University representatives Dr. Ella Benson, Dean of Accessibility Services and Professor of Education, Dr. Mitchell Henke, Professor of Graphic Communications, and Dr. Brenda Tinkham, Associate Provost for External Relations and Dean of the School of Education and Professional Studies. 
President Peterson was delighted to host Bertie County School officials on campus and make the partnership formal with the agreement signing, sharing with Dr. Smallwood some upcoming potential partnership opportunities for the district and Chowan.
"It takes multiple stakeholders to ensure that our children have what they need for success," shared Dr. Smallwood.  He continued that together stakeholders can work to ensure that they "reach students on  social, emotional, and academic levels," citing that "it 'takes a village' and while that sounds cliche, it is a fact." 
Chowan University continues to build a network of partnerships to make an educational impact on our region.  For more information on partnership agreements, please contact Dr. Ella Benson, Dean of Accessibility Services and Professor of Education, at bensoe@chowan.edu.