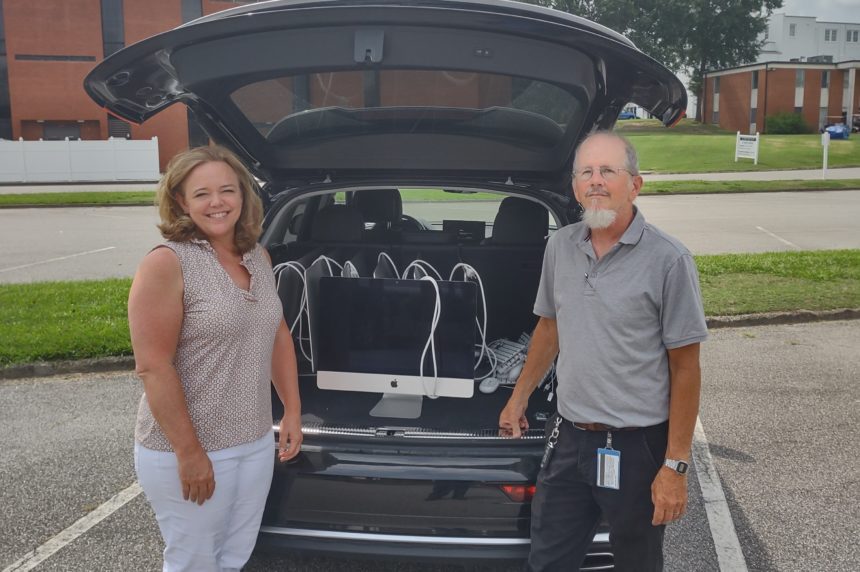 Barbara Outland, Ridgecroft School and Joe Valenti, Chowan PC Technician
Chowan University Donates iMacs to Ridgecroft School
Aug 9, 2022
by Kim Sherman Bailey
Chowan University's Information Technology Department donated eight iMac computers to Ridgecroft School of Ahoskie, NC. Chowan also donated keyboards and mice to accompany the systems.
Ridgecoft School shared that the iMac will be used to enhance learning across the school on all levels. Barbara Outland, Upper and Middle School Director and Director of Admissions at Ridgecoft, shared that the art department is "installing several of the computers in the art room for both graphic art instruction and research. Our yearbook staff will also benefit from the addition of new computers, which will increase efficiency by allowing several students to work at once." Ridgectoft is also adding a few to individual classrooms.
"We sincerely thank Chowan University, especially Associate Provost John Dilustro and Assistant Vice President of Information Jay Howell, for facilitating this generous donation for Ridgecroft School," shared Mrs. Outland. "We value our partnership with Chowan University and look forward to future collaborations."
This donation came before the formal agreement signed between Ridgecroft School and Chowan University on July 28, which offers a framework for sharing resources to increase quality education and to represent Chowan's commitment to future efforts, collaboration, and a shared impact in our region. "As the university needs change and upgrades are made in technology, the university tries to donate resources to those in our region," said Jay Howell. "We are grateful that Ridgecoft is able to use these iMacs across their school for various reasons."
If you are interested in future collaborations with the Chowan University Department of Information Technology, please contact Jay Howell, Assistant Vice President of Information, at howelj@chowan.edu. For more information on partnership agreements, please contact Dr. Ella Benson, Dean of Accessibility Services and Professor of Education, at bensoe@chowan.edu.