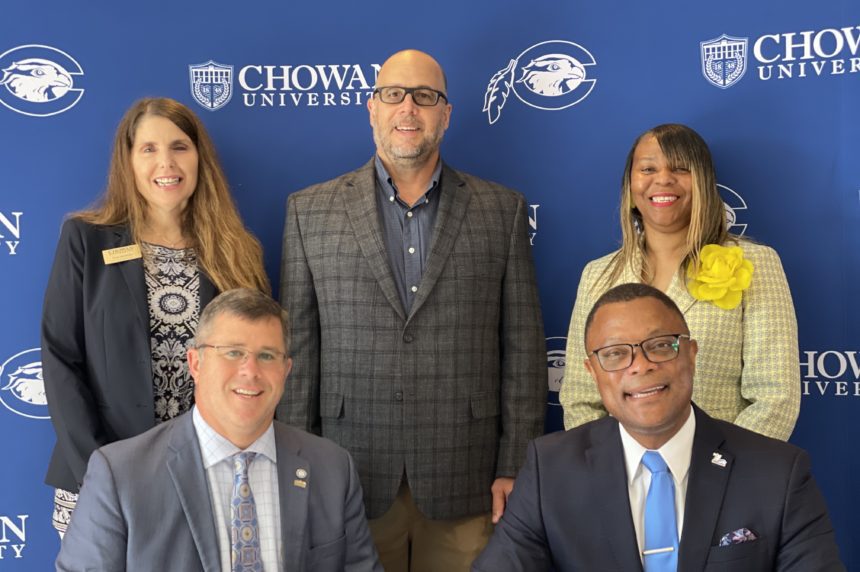 Top left clockwise: Dr. Ella Benson, Dean of Accessibility Services; Professor of Education, Dr. Mitch Henke, Professor of Graphic Communications, Tyrana Banks Battle, Assistant Superintendent of Halifax County Schools, Dr. Eric Cunningham, Superintendent of Halifax County Schools, and Dr. Kirk Peterson, President, Chowan University
Chowan University Signs Partnership Agreements with Local School Leaders
Jul 29, 2022
by Staff Reports
On Thursday, July 28, regional school leaders gathered at Chowan University to sign partnership agreements with Chowan University. These agreements offer a framework for sharing resources to increase quality education and allow greater access to Chowan's teacher education graduates.
Chowan President, Dr. Kirk E. Peterson, signed agreements with Dr. Eric Cunningham, Superintendent of Halifax County Schools (NC); Mr. Russ Johnson, Headmaster at Ridgecroft School (NC); Ms. Tammi Ward, Interim Superintendent at Hertford County Schools (NC); and Dr. Kelvin Edwards, Superintendent at Greensville/Emporia Schools (VA).
Coordinating this effort was Dean of Accessibility Services and Professor of Education, Dr. Ella Benson. She shared, "the goal of these partnerships is to help alleviate the teacher shortage, to bring local students to Chowan's campus for various academic, athletic, artistic, and social activities." She continued, "as well as to show that Chowan is a great choice for post-secondary education students and professional education for teachers."
With the addition of the University's Master of Arts in Teaching, local school systems can benefit as many educators entering the profession are not licensed. Chowan's program allows these professionals to gain further education through a master's degree and qualify for licensure. The resources that Chowan has to offer, such as facilities and campus experiences, provide expanded educational opportunities.
Dr. Cunningham stated, "the partnership will open many opportunities for our students and staff." Cunningham has already witnessed the positive impact of cooperating together. In June, 350 of the district students attended Chowan for a day-long camp to experience college classes. He relayed some of the positive stories his students shared of the experience of learning from Chowan professors.
President Peterson was delighted to host these distinguished leaders on campus. He shared, "I am excited about working with these distinguished educators. Working together, we can make an educational impact in this region."