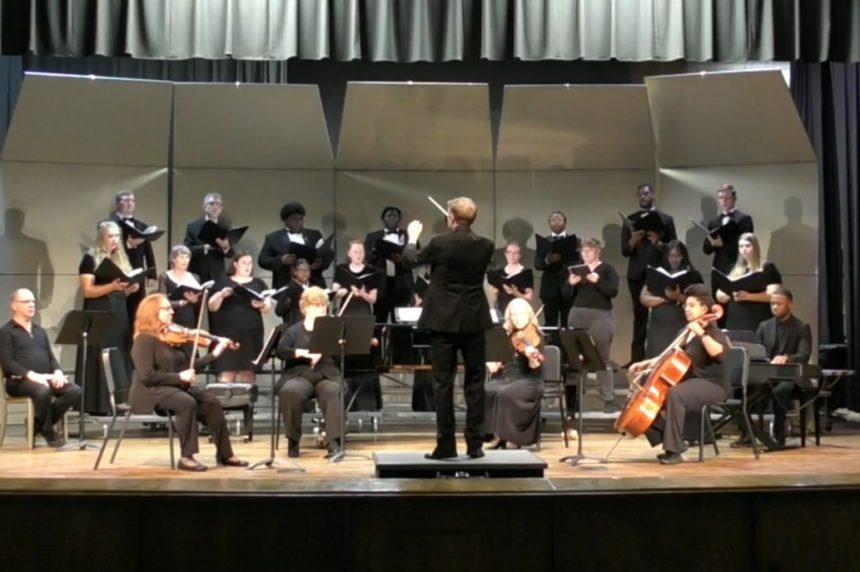 Chowan Singers and Community Chorus spring 2022
Chowan University Community Chorus To Begin Rehearsals
Aug 2, 2022
by Staff Reports
The Chowan Community Chorus, part of the Chowan University Department of Music, will begin rehearsals for the 2022-2023 year on Monday, August 29. Singers of high school through adult age are welcome to join us for rehearsals every Monday from 6:30-8:00 pm in Daniel Hall as we prepare for the Christmas at Chowan concert to be held on December 4.
The Community Chorus is directed by Dr. Benjamin Thorburn, Associate Professor of Music and Director of Choral Activities at Chowan University, and focuses on performing classical and contemporary choral masterworks. Each December, Community Chorus sings in Christmas at Chowan in combination with the university's student ensembles and guest instrumentalists. In March 2022, members of the Community Chorus traveled with the Chowan University Singers to perform the Vivaldi Gloria at Carnegie Hall in New York City. For spring 2023, the Community Chorus will sing John Rutter's Feel the Spirit, a set of Black American spirituals arranged for choir and mezzo-soprano soloist, in concerts at Chowan University and at the Suffolk Center for Cultural Arts in Suffolk, VA.
Singers are asked to sing a brief audition for voice part placement and should be familiar with reading musical notation. For more information, contact Dr. Benjamin Thorburn (252-398-1057, bethorburn@chowan.edu).