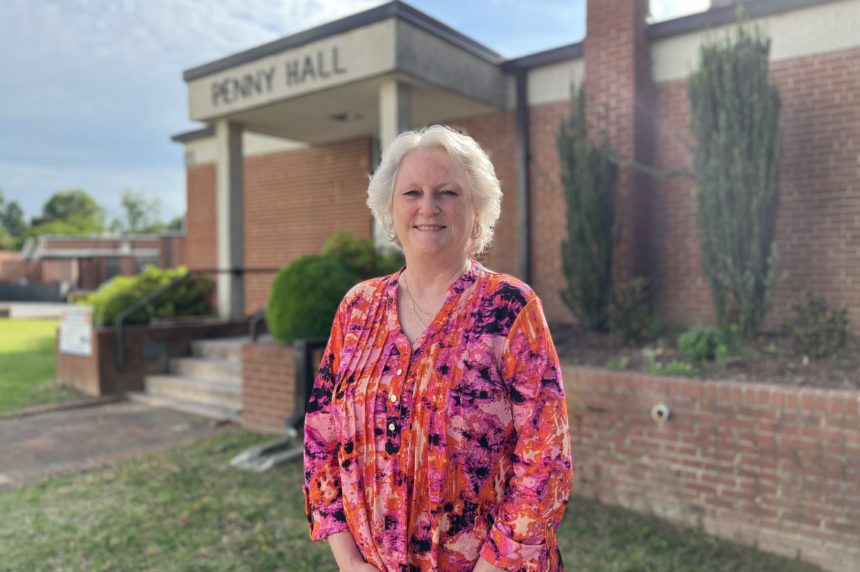 Christy Hull Retires after Twelve Years of Service at Chowan
Jun 16, 2022
by Kim Sherman Bailey
Christy Hull, Administrative Assistant for the Vice President of Student Affairs, officially begins her retirement on June 17, 2022. Serving all of her tenure in Student Affairs, Christy has always been widely known on campus and a student favorite, not only for her caring and compassionate nature but also for her festive spirit for every holiday and her legendary Halloween costumes.
Christy joined the university in May 2010 after a long career at Union Camp, now International Paper. As an integral member of the Chowan community, her roots extend beyond employment at Chowan. Christy grew up in Murfreesboro and she and her husband, live just outside of town where they raised their daughter Alana, who graduated from Chowan this past May.
Dr. Montrose Streeter, Vice President of Student Affairs, affectionately noted, "Christy's departure will leave a great void for Student Affairs. She did so much more than serve as an administrative assistant; she supported the entire Student Affairs division. She is a consummate team player always ready to lend a hand when needed. While I am happy she will be retiring, I will dearly miss her as a colleague and a friend. She is welcome to return, especially dressed up for Halloween. God bless you in your retirement!"
Christy wished to share with Chowan faculty and staff that "it has been a pleasure to work with you all, some for all twelve years" and she noted she looks forward to seeing many around town. Christy shared with students via email her impending retirement earlier this month encouraging them to "keep following your dreams – you can accomplish anything you want to when you put your mind to it." To kick off her retirement, Christy will enjoy a beach trip and the summer by the pool. Along with this well-deserved rest, she looks forward to spending time with her family.
Everyone on campus will miss Christy's infectious smile, and we are all secretly hoping she is leaving a stash of candy behind for her infamous candy bowl.
Please join Chowan University in wishing Christy a happy retirement!