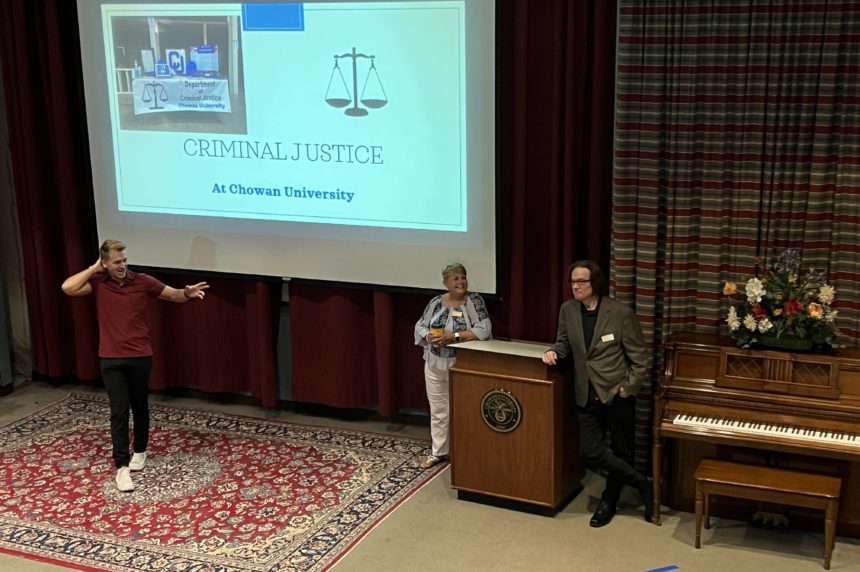 Hertford County High Schoolers Visit Chowan University for "College Day Experience"
Jun 23, 2022
by Kim Sherman Bailey
On Tuesday, June 21st Chowan University hosted over fifty Hertford County Public School students from Hertford County High School and CS Brown High School STEM School. The students visited Chowan to learn about life on a college campus.
The students started their day at the Hawks Athletic Center by learning about how one would enroll in a university and the specific steps at Chowan for admission and athletic recruitment from Scott Parker who serves as Internal Operations for the Department of Athletics and previously spent over 20 years in the Admissions Office. Coach Chris Harris, Assistant Women's Lacrosse Coach and Head Cross Country Coach shared his story with students of how he overcame obstacles with hard work and went from a college walk-on student-athlete to receiving a scholarship. Head men's basketball coach, Rob Burke, connected with the group as he is a Hertford County High School graduate who went out, put in hard work, and returned to his dream of being a head coach at Chowan University.
After learning about recruitment and admissions, the students met with eight faculty members over the day. Those faculty members were Dr. Samuel Miller, Associate Professor of Mass Communication, Dr. Mary Hellmann, Chair of the Department of Music, Jason Fowler, Assistant Professor of Graphic Design, Dr. Ella Benson, Dean of Accessibility Services, Steve Harders, Professor of Communication and Drama, and Dr. Pamela Woodard, Chair of the Department of Criminal Justice. The faculty members shared about their disciplines, as well as how education can provide options and a future career path. The students were able to ask questions about what it is like going to college and the value of a college education.
To learn more about Chowan University visit chowan.edu, or schedule a visit to our campus at chowan.edu/visit. 
View Hertford County High School's Facebook video post: https://www.facebook.com/100018234066456/videos/733910991046703/