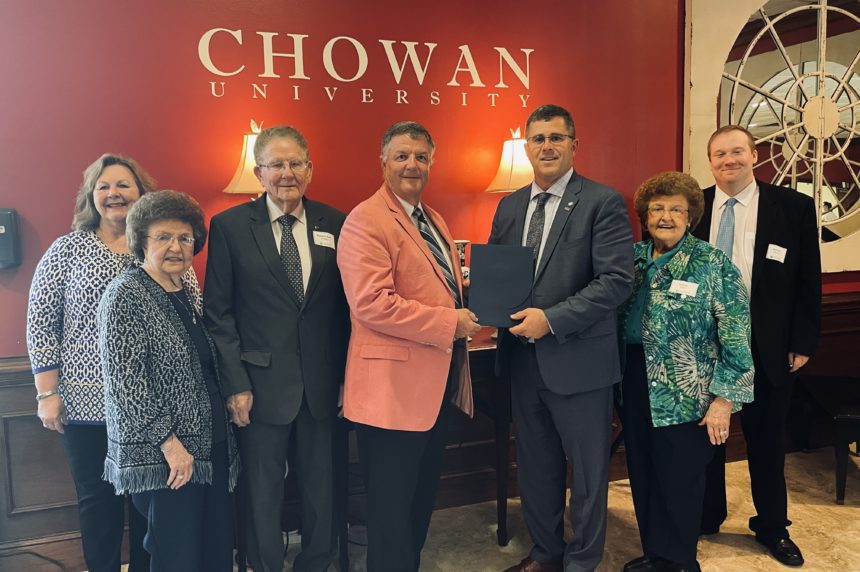 Earlys Baptist Church establishes third Endowment for Chowan University's Christian Service Association
Jun 10, 2022
by Staff Reports
Just before the annual spring Chowan Christian Service Association (CCSA) Dinner meeting, representatives of the Earlys Baptist Church in Ahoskie signed their third CCSA endowment agreement. The CCSA provides opportunities for students to learn and serve in Jesus' name through tuition scholarships and missions endowments.
Earlys Baptist Church was one of the first churches to begin a scholarship in 2005 when CCSA was first established. Through faithful giving, the church reached the endowment level of the first scholarship. After its completion, the church supported a new initiative of CCSA in 2013 by creating the Earlys Baptist Missions Endowment to aid students going on mission trips with Chowan Campus Ministry. Now they have "done it again" and are supporting Chowan students called into the ministry with an additional scholarship, the "Earlys Baptist Church Scholarship # 2."
"We have seen the benefit of giving to CCSA," shared Elaine Myers, an Earlys Baptist deacon and Chowan alumna. "Our CCSA scholarship helped a local student, who otherwise may not have been able to attend college. Now he is serving in a local church, has a nursing home ministry, a radio ministry, and is a volunteer chaplain at the hospital." Because of this rewarding experience, Earlys Baptist continues to make the CCSA scholarship a priority by including it in their yearly budget.
"I am filled with gratitude to Earlys Baptist Church for their generous support of students," shared Director of Church and Community Relations, Lou Ann Gilliam. "This church recognizes that investing in CCSA students is an investment in God's kingdom."
For more information about the Chowan Christian Service Association, contact Lou Ann Gilliam at gillil@chowan.edu or call at 252-398-6317.