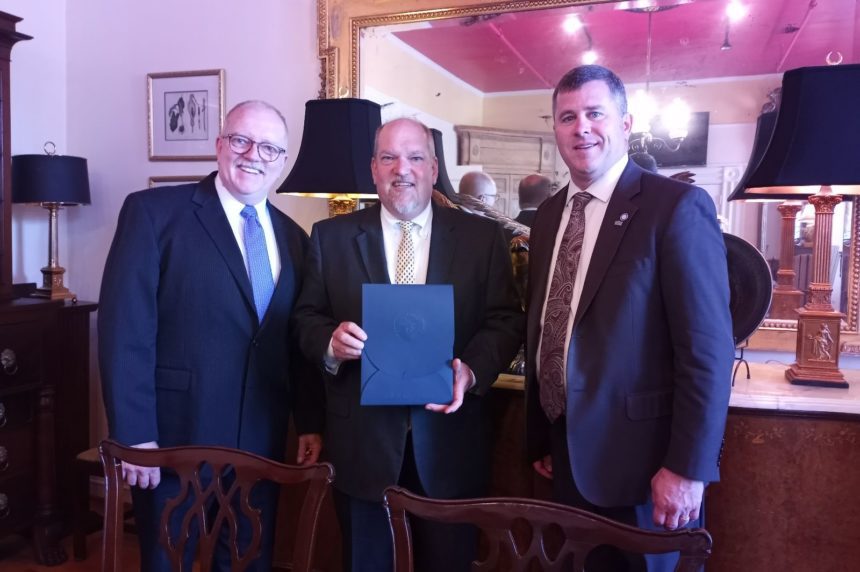 Al and Mark Parker with President Peterson at the scholarship signing.
Parker Family Music Scholarship Endowment Established
May 3, 2022
by Staff Reports
Brothers Al and Mark Parker recently honored their family and their hometown of Murfreesboro by establishing the Parker Family Music Scholarship Endowment. The scholarship is in memory of their Grandmother, Brownie Gertrude Parker (class of 1901), their father, Dr. Alton W. Parker and his twin brother (their uncle) Elton C. Parker (both class of 1940), and their mother Jeanne R. Parker who taught English at Chowan and took music lessons there.
Both Al and Mark served as Chowan Champions for the Day of Giving on April 13th. As they pondered their connection with Chowan, they decided to establish the scholarship. "We are deeply grateful for our roots and our connection to Murfreesboro and Chowan University," stated Al.
Al and Mark have limitless talents in the area of social media. They promoted Chowan's Day of Giving and encouraged their family, current friends, and childhood friends to make a donation; particularly to their scholarship. They also "put their money where their mouth is" so to speak, by personally creating a matching challenge gift. The scholarship was close to reaching the endowment level at midnight on the Day of Giving.
The brothers are proud that their grandmother, one of eight children, who grew up outside of Murfreesboro, Brownie Gertrude Parker, class of 1901, was the first person in their family to attend college. The education she received at Chowan was passed down to the community through music lessons to children and choirs. Their father, Alton W. Parker, may not have been able to attend college if it had not been for Chowan. He continued his education at the University of North Carolina and later the Southern College of Optometry. Dr. Parker served for many years as the town's optometrist and was known for his community support at the Murfreesboro Baptist Church (sang in the choir) and as a Board member of the Albemarle Regional Library.
Al and Mark's parents may not have ever met if it had not been for Chowan College. Their mother, Jeanne R. Parker, was hired in 1961 by then President Bruce Whitaker. She lived on the third floor of Columns and reported that she "did not see the Brown Lady (folklore spirit)."
Al and Mark grew up in Murfreesboro across from the ravine from the Chowan campus. They were on the campus on an almost daily basis where they researched projects in library, took music lessons, swimming lessons, attended concerts, plays, science fairs, etc. They were influenced by James Chamblee, Jerry Hawkins, Bob Brown, Janet Collins and many others. They truly understand that "Chowan is the cultural, intellectual and economic center of the Roanoke Chowan area and impacts the lives of everyone who lives in the area.
"We know how different our lives might be if we had not grown up in Murfreesboro and were influenced by Chowan," the Parker Brothers agreed. The Parker Family Music Scholarship will certainly assist a worthy student who is involved in the Music Program. Al and Mark look forward to the day when they attend the annual Scholarship Luncheon and are fortunate to meet the scholarship recipient. They have enjoyed working together on this project and their numerous visits to the Chowan campus.