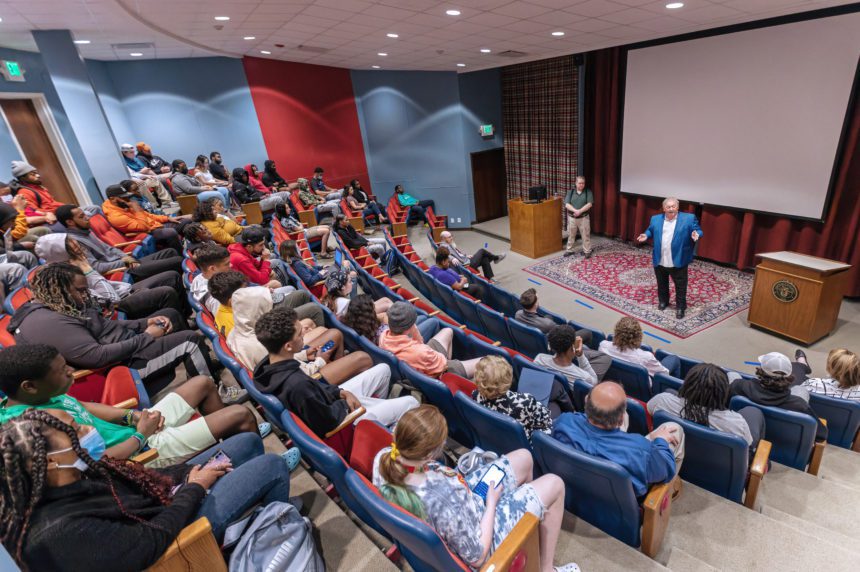 Alumni Davis and Stewart Lead Department of Business Visiting Executive Program
Apr 29, 2022
by Kim Sherman Bailey
On Friday, April 22, 2022, the Visiting Executive Program returned to in-person for the first time in over two years. Through the Department of Business's Visiting Executive Program, business students have a unique opportunity to network with successful captains of industry in a wide variety of fields. This year two executives were welcomed back to campus, Freddie Davis and Mike Stewart, both alumni of Chowan and successful businessmen.
Freddie Davis is the CEO of Gulf Stream Shippers Association LLC, which is the largest furniture shipping association in the world. Davis has firsthand experience with our nation's supply chain challenges, as he currently has over 2800 containers off the coast of California under his responsibility. In addition, Freddie is excited about his newest company, Mesa Davis Enterprises LLC, which funds gaming app development, especially educational gaming apps. In addition, he is the CEO of Pelagic Holdings which specializes in real estate and rental businesses, and Bluewater Logistics Group, which is a domestic transportation company. Davis is a Chowan Alum graduating in the class of 1981. He played baseball at Chowan in 1980 and 1981, later finishing his career at Appalachian State University, and was inducted into the Chowan Athletics Hall of Fame in 2001.
Mike Stewart is the CEO of Tiger Due Diligence Group. He is an environmental consultant who specializes in assessing land and buildings and the costs that would bring them up to code. He, too, is a Chowan Alum, graduating in the class of 1980 and the class of 1982. Stewart went on to Appalachian State University and graduated from the University of North Carolina at Charlotte with a B.S. in Earth Science and a concentration in Geology.
Dr. Taylor, Dean of the School of Business and Design introduced the duo who began the program with a little reminiscing of their days on campus of then Chowan College. They both shared with the audience the profound impacts the many Chowan people have had on their lives.
Stewart began the session by sharing that he and his best friend Freddie took a chance in the late 70s driving from western North Carolina to Murfreesboro in an ice storm to visit the Chowan campus. Through the years they had their challenges and it was the people in their lives who helped them succeed. Stewart is a self-proclaimed "one-man show" from doing his own quotes and business plans to his own taxes in his business compared to Davis who has numerous accountants and employees that help run his businesses.
Davis shared that he started his first business with $100 and a computer from Wal-Mart in the sunroom of his house. He has had many successes in his years, but they did not come without times of uncertainty, including times when he did not have money to buy diapers and formula for his children. They both humbly shared that there were periods in their lives when they had to rely on each other not only as friends but financially to survive. While both shared profound business stories and tips for the audience, the piece they both drove home was that it is hard work and people that make successes happen, and that "if you quit, you will lose." The duo emphasized that they are both "normal people" and gave the students numerous opportunities to engage and ask questions.
"On behalf of the Department of Business faculty and staff, we sincerely thank Freddie and Mike for serving as our Visiting Executives," says Hunter Taylor, Dean of the School of Business & Design. "They not only shared their experiences as Chowan students and later successful businessmen, but they also imparted valuable advice to our students. Their main message was to never give up, as success ultimately comes to those who relentlessly pursue their goals. As two highly successful Chowan alums, the knowledge and expertise they shared is an inspiring example to our students, and the individual connections made will continue to serve our students well into the future."
About the Visiting Executive Program
The Department of Business Visiting Executive Program exists to expand the educational horizons of our students by providing the opportunity for interaction with upper-level business executives from a variety of business fields. Each semester a different executive comes to campus to speak in classes, have a networking meal with a small group of students and the Department of Business faculty, and speak at an assembly later in the day. Since its inception, participants have included a former vice president of the Richmond Federal Reserve Bank, partners in a large accounting firm, president and upper management of a hospital, a Vice President & City Manager for the State Employees' Credit Union, Director of Sales at US Cellular, an entrepreneur who profitably created, developed and sold multiple companies, a vice president of an international agricultural corporation, vice president of a large commercial construction firm with contracts throughout the southern and eastern US, a senior economic developer for the NC Department of Commerce, the Public Relations and Communications Manager for one of the largest manufacturers of biomass fuel in the US, and a Regional General Manager with Lowe's.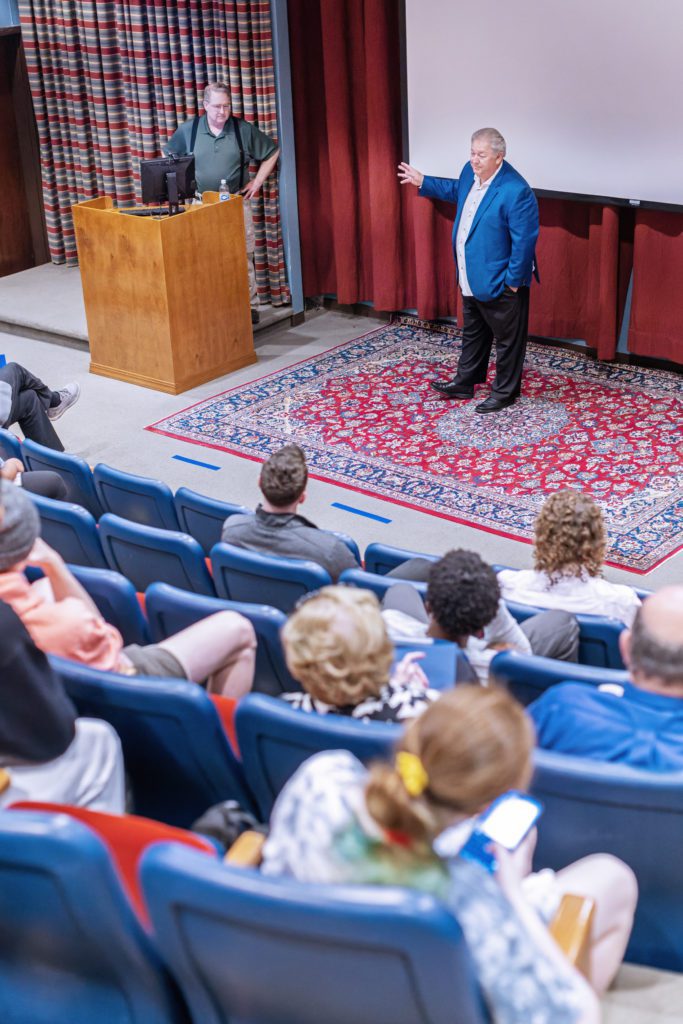 Mike Stewart is pictured in green; Freddie Davis is pictured in blue.