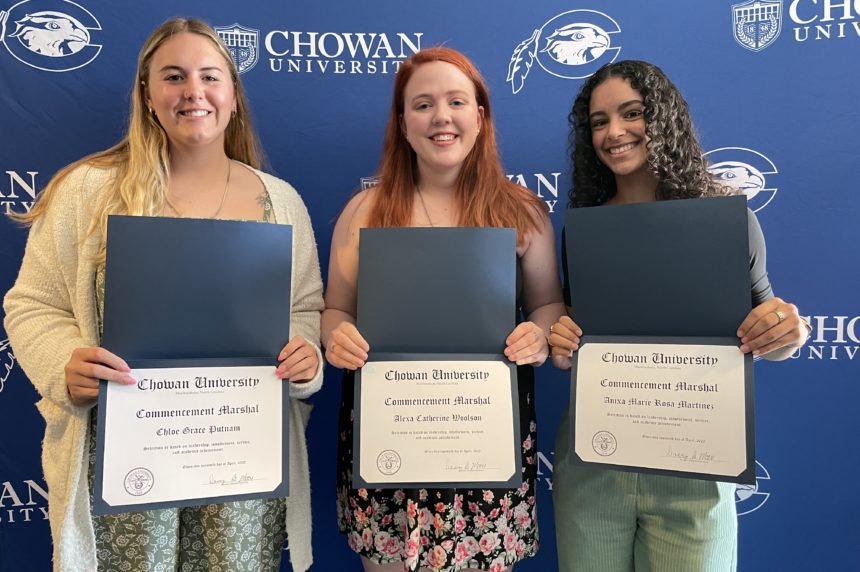 Chowan University Awards Day 2022
Apr 21, 2022
by Kim Sherman Bailey
Chowan University celebrated the academic and student organization accomplishments of students and faculty for the 2021-2022 academic year at the Awards Day Convocation on April 22, 2022, with an in-person event for award winners and streamed live for guests.
The awards are as follows:
Vera Parker Womble Christian Service Award
Patrick Kevin Krack
Commencement Marshals
Annery Esther Abreu
Rhianna Janae Ballard
Adasia S. Boone
Elijah Quaderick Brown
David Wayne Clark
Lillian Marguerite Delucca
Santino Jose Sormani
Chloe Grace Putnam
Anixa Marie Rosa Martinez
Andrew Boyd Simmons
Marshall Bowdoin Stevens
Ishua Shyheim Stroud
Rachel Louanna Van Buren
Destiny Esther Vaughan
Dorlisha Lenea Walton
Alexa Catherine Woolson
Excellence In Leadership Awards
Excellence In Leadership Advisor Award
Pamela C. Woodard, Criminal Justice Club
Excellence In Leadership Emerging Leader Award
Brayden Thomas Conboy, Wednesday Night Worship
Excellence In Leadership Officer Award
Trevon Malik Abraham, Rotaract Club
Excellence In Leadership President Award
Michaela Jean Worthington, Phi Beta Lambda
Mission And Vision Cup
Criminal Justice Club
R. Clayton Lewis Outstanding Resident Assistant Of The Year Award
J'On Latroy Russell
Presidential Ambassador Award:
Ty Andrew Horsley
Jason V. Jenkins II
Emily W. Kaissieh
Patrick Kevin Krack
Harri Tomas Lovett
Marissa Alexandria Mann
Meredith Bailey Morgan
Caleb Ashe Peterson
Most Outstanding Athlete Award
Destiny Ameel Robinson, Basketball
Toby Alexander Sims, Soccer
Steven Bryce Witt, Football
Cheryl Joy Hobday Mcelheney Business Award
Harri Thomas Lovett
The Drs. Vaughn And Miles Outstanding Business Student Award
Alexa Catherine Woolson
Dr. Dejesus Outstanding Student In Economics Award
Michaela Jean Worthington
Joseph Lee Parker Scholarship
Paige Olivia Wilhelm
Amy Rozmus Hammond Scholarship
Cristina Maribel Flores
Garth D. Faile Biology And Physical Sciences Faculty Award
Hailey Jade Hudson
Mary E. Wood Science Award
Jeleah Sharah Delancy
Raymond Memorial Science Scholarship
Ina L. Womack
Acheson Harden Mathematics Award
Carlos Brandon Pasula
Senior Mathematics Award
Ciara Isabel Ortega
Outstanding Freshman In English Award
Amber Cheree Mann
Outstanding English Major Award
Glenn Laurence Jordan
Outstanding History Student Award
Raydarious Levert Freeman
Charles L. Paul History Award
Job C. Williamson
Romey Peavler Psychology Student Of Promise Award
Miyah Zhane Eley
Brooklynne Aubrey Johnson
Psychology Award
Jenna Alexis Grim
Keira Nicole Teserovitch
Outstanding Criminal Justice Student Award
Annery Ester Abreu
Ishua Shyheim Stroud
Department Of Religion Honor Award
Mary-Grace Albina Roma Crosby
Ethics In Action Award
Harri Tomas Lovett
Outstanding Junior In Graphic Communications Award
Mauquann Deshawn Squire
Outstanding Graduate In Graphic Communications Award
Diamond Lajoyce Martin
Outstanding Graduate In Studio Art Award
Jourdan Bledsoe
Outstanding Graduate In Graphic Design Award
Tre'Yon Antonio Grace
Doug Eubank Award
Ulyses Ortega-Espino
James Monroe Chamblee Music Award
Dar'Keciya Shamya Daye
Dr. Charles Bentley Outstanding Teacher Education Student Award
Kaitlin Maureen Brunelli
Student Teacher Of The Year Award
Hannah Grace Eden
Alpha Lambda Delta Maria Leonard Senior Book Award
Arina Yuriyevna Karbolina
Dr. Patricia Williams Alpha Chi Chapter Member Of The Year Award
Harri Tomas Lovett
Chowan University Student Research Conference Awards Of Excellence:
Best Biology, Mathematics, Psychology, And Exercise Science Paper
Skadi Danielle Mcnally Kylander
Best Business, Sport Management, And Integrative Studies Paper
Harri Tomas Lovett
Best Criminal Justice And Education Paper
Hannah Grace Eden
Kimberly Trixy Evans
Best Religion, English, History, And Interdisciplinary Studies Paper
David Thomas Joyner
Best Poster Presentation
Meshaun Anthony Kenney
Diamond Lajoyce Martin
Best Visual Display
Jyronn Andrew Brinkley
Best Literary Work
Marshall Bowdoin Stevens
Best Musical Performance
Joshua Paul Lynch
Best Graduate Paper
Kaci Pena
Order Of The Silver Feather
Ahmeika C. Jones
Skadi Danielle Mcnally Kylander
Patrick Kevin Krack
Diamond Lajoyce Martin
Meredith Bailey Morgan
Destiny Ameel Robinson
Michaela Jean Worthington
Faith In Your Future Award
Trevon Malik Abraham
Erica Elizabeth Mock
Kashara Janae Simpson
Merit Award
Welinton Mariano
Estelle Thigpen Superior Citizenship Award
Diamond Lajoyce Martin
Best All Around Student Award
Miyah Zhane Eley
Harri Tomas Lovett
McDowell Columns Scholar Prize
Mary E. Hellmann
Gregory S. Taylor
Faculty Excellence In Community Service Award
James K. Dame II
Heather L. Mcguire
Faculty Advisor Of The Year Award
Ashley N. Doane
Alpha Chi Teacher Of The Year Award
Jason S. Fowler
Academic Affairs Staff Awards Of Excellence
Campus Interaction Award
Sherry D. Duncan
Community Engagement Award
Syble A. Shellito
Job Performance Award
Georgia E. Williams
Please join Chowan University in congratulating all of the outstanding recipients. The full awards day program can be viewed here.