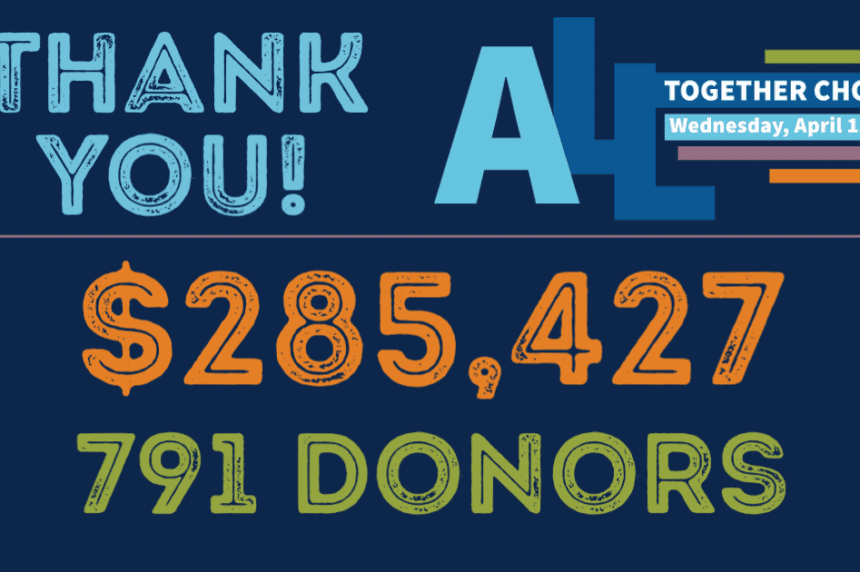 Chowan University Exceeds Day of Giving Goals
Apr 14, 2022
by Kim Sherman Bailey
Chowan University's second annual day of giving was the most successful fundraising event of its kind in Chowan history.
This year's day of giving inspired 791 donors to give, totaling $285,427, surpassing the event's fundraising goal of 600 donors and $225,000 to support various areas of the university. Alumni, friends, faculty, staff, and parents from 39 states and four countries participated in the online giving event during 24 hours on April 13th.
There were over 245 Chowan Champions who signed up to promote the day of giving by sharing their story and even sharing their unique giving URLs to encourage others to give. Donors had an opportunity to express their support by writing messages when they made a gift online either in memory or honor of someone on the giving day website donor wall. While social media was flooded with stories of why Chowan is special using #ChowanGives and #AllTogetherChowan, Chowan pride could be seen throughout Murfreesboro. Local business employees dawned their "All Together, Chowan" T-shirts in support of the day of giving, and many local establishments offered "Giving Day Specials."
Throughout the day, faculty, staff, alumni, and supporters stopped by campus to show their support not only monetarily, but with their time at "giving day headquarters" located in the Felton University House. There, guests and the advancement staff engaged in person and on social media, while the leaderboard, matches and challenges were displayed on two large-screen televisions.
"Seeing the stories shared on social media and being on campus to see the excitement is what makes giving day so special," shared Andy Wilson, Vice President for Advancement. "Having current students get excited about giving their first gift to the university, and realizing they made a difference, no matter the size, and for them to get engaged with photo opportunities and Chowan pride items helps build those life-long relationships with the university. And to have people like Zack Cooper '17 take the day off from his law practice in the greater Raleigh area to join us on campus in support of giving day, and even go live on our social media along with his former advisor, Dr. Pamela Woodard who is chair of the Criminal Justice Department and an alumna adds a level of excitement to the day that one can only understand if present."
Vital to the success of our day of giving was the matching gifts and challenges secured throughout the year. Once donations reached $125,000, Chowan received an additional $100,000 toward Chowan University's Scholarship Endowment, made possible thanks to the generosity of the children of the late Jim Johnson and dubbed The Johnson Family Scholarship Challenge. Charles Pond had a 1:1 match for donations totaling $25,000 between the hours of 8 am and 2 pm, which was generously extended another $10,000 by Chairman of the Board, Kemper Baker, and his wife Bev. Dr. Brenda Tinkham and Jayne Wolfskill matched gifts in support of Teacher Education, while President Peterson and his wife Rachel had their challenge of 20 donors to the Agape Fund unlocked. Mick and Carol Outten's challenge in support of the Chowan Fund with $10,000 was unlocked once 50 people donated to the fund. With 100 new donors making a gift during the Chowan Gives day, Bucky and Jan Glover will provide $25,000 for the new Worship Center Chapel. Numerous other challenges were created, including a few by alumni Nick Khoury, Shanice Lawton, Barry Bradberry, and Dr. Pamela Woodard. We even saw our Hawks battle it out late into the night as athletic teams were competing for additional donations through the number of donors they had to their funds on the day of giving.
"I continue to be impressed by the Chowan community every day and 'Chowan Gives' proved once again how resilient our students, faculty, staff, alumni and friends can be when we all come together," says present Kirk Peterson. "In a year that has presented challenges to all of us, I am thankful for everyone that participated in this special day for Chowan to make it such a great success."
The Chowan University inaugural Day of Giving took place in April 2021 and focused more on awareness and obtaining the support of new donors. In its first year, the university raised $151,454 from 545 donors under the mantle "Chowan Gives."
Donors who missed the 24-hour event but would still like to contribute can do so by visiting chowan.edu/give. To view the donor wall and see a recap of the day, visit givinday.chowan.edu.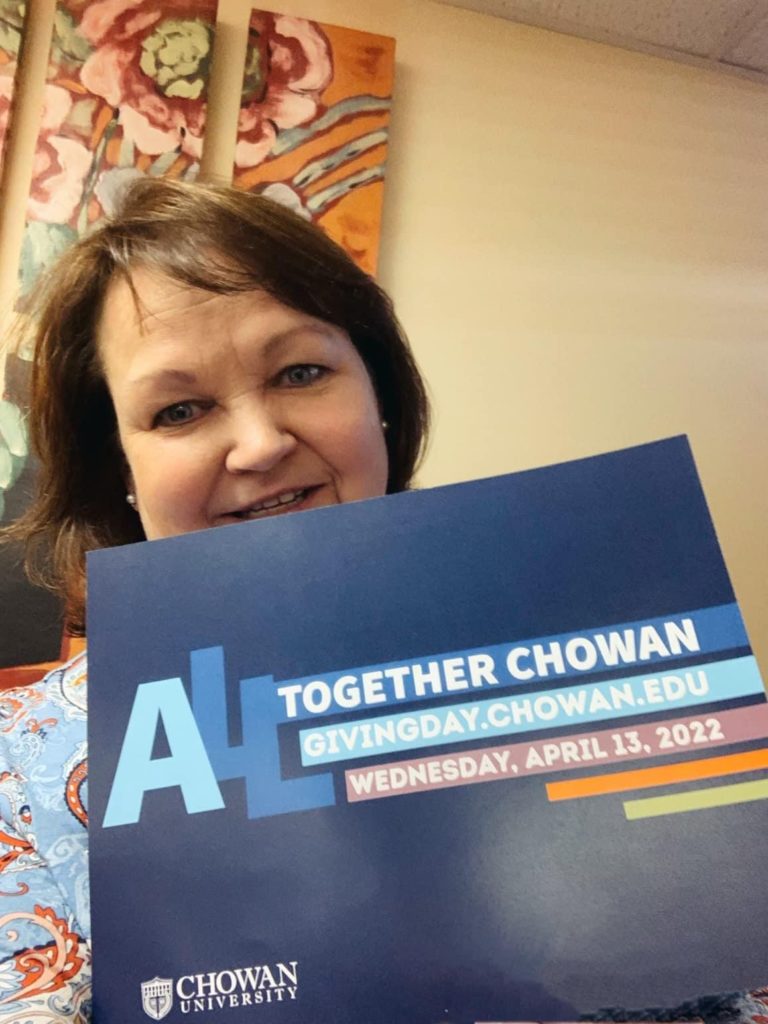 Email us your Day of Giving photo to be included here! Send it to news@chowan.edu.