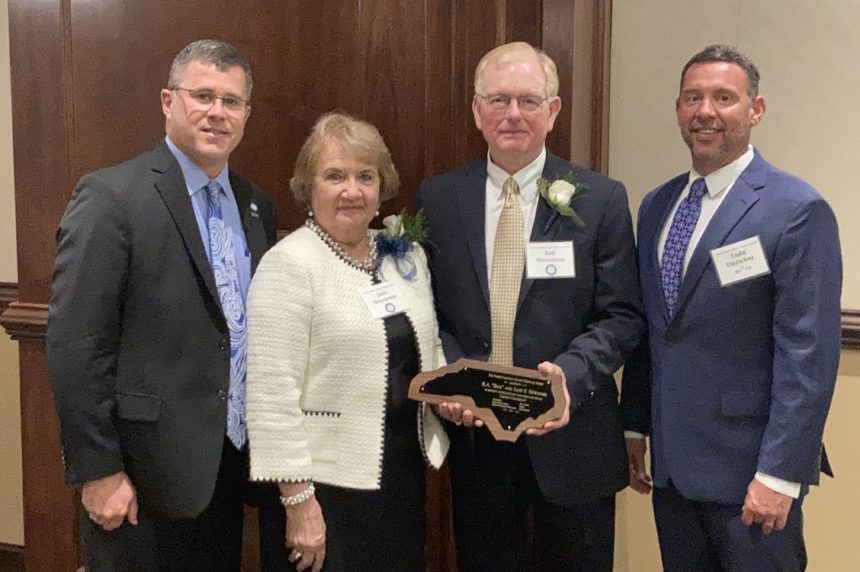 Kirk E. Peterson, President, Chowan University, Jane Newsome, Bob Newsome, and Todd Unzicker, Executive Director-Treasurer, Baptist State Convention of North Carolina
Bob and Jane Newsome Honored with NC Baptist Heritage Award
Apr 7, 2022
by Kim Sherman Bailey
Chowan University honored R.A. "Bob" and Jane E. Newsome of Winton with the NC Baptist Heritage Award at an event co-sponsored by the Baptist State Convention of North Carolina and the North Carolina Baptist Foundation. Held at the Grandover Resort in Greensboro on Tuesday, April 5th, the awards program featured recipients from Baptist institutions and agencies across the state.
Faith, family and giving are central and important parts of the Newsome's lives. Reared in rural northeastern North Carolina, Bob on a farm in Winton and Jane near Ahoskie, their upbringing shaped their values early in life.
Bob and Jane have made Winton, NC their home in every way. In 1975 the Newsome's established Commercial Ready Mix Products, a family-owned business, affording them the opportunity to give back to the community in many ways over the years, especially Chowan University, Bob's alma mater.
Their time, talents and treasure have been shared for the benefit of Chowan over many years.
Bob is a former member, Chair of the Executive Committee and Vice Chair of the Board of Trustees, having served more than fifteen years, and Jane is now in her seventeenth year as a member of the board. She serves on the Executive Committee and is Chair of the Academic Affairs Committee. Together, they have supported every major capital project over the past 30 years.
Evidence of their generosity can be seen campus-wide, most recently the walkway to the Cross of Christ Chapel. Jane is a champion of the Music Department and provided instrumental leadership in the formation of the Friends of Music. She has generously supported the Steinway Piano Campaign, upgrades to Daniel Hall, and established the Newsome Family Scholarship Endowment for Music.
The Newsomes are members of Winton Baptist Church and have served in many capacities over the years. Bob as a deacon and Sunday school teacher, and Jane served as pianist/organist for more than thirty years. She is currently the pianist/organist at Earlys Baptist Church, Ahoskie, NC. Bob and Jane are the parents of two children, Tim Newsome (Sandra) and Lisa Lane (Curk), four grandchildren and two great-grandchildren.
"For more than 32 years, the Newsomes have faithfully served in leadership capacities helping Chowan grow and expand. It is an honor to recognize them as Chowan's recipients of the Baptist Heritage Award, an honor they truly deserve," stated Kirk E. Peterson, President.
Please join Chowan University in congratulating Bob and Jane E. Newsome as recipients of the 2022 NC Baptist Heritage Award!