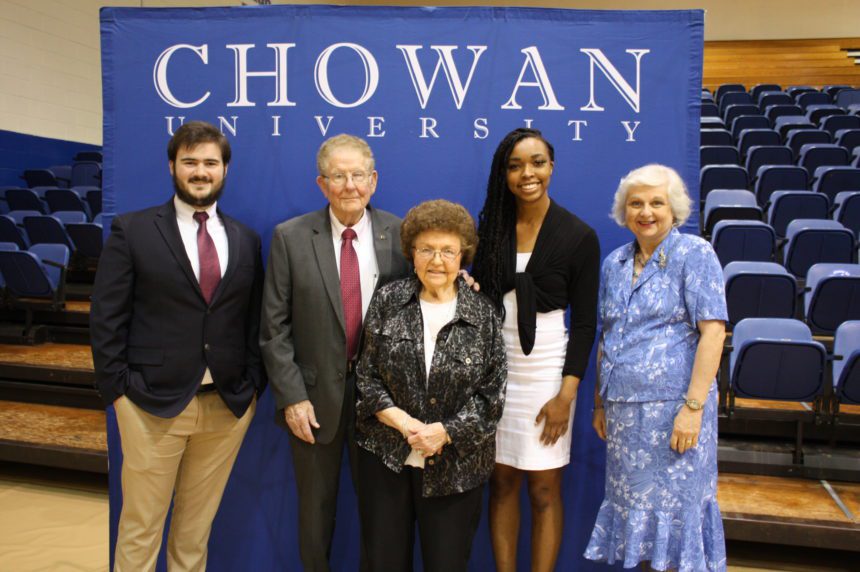 Chowan Presents The Annual Scholarship Lucheon
Apr 5, 2022
by Staff Reports
Spirits were high on Thursday, March 31st, 2022, when the Hawks Athletic Center was prepared for the annual scholarship luncheon, albeit delayed from November 2021 due to the ongoing pandemic. Donors, recipients, and other valued guests gathered to share stories over a wonderful meal. Chowan University Singers performed while the Chowan University Jazz Band provided gathering music throughout the event.
Kirk E. Peterson, President of the University, explained the importance of paying it forward. He declared how donors are a vital part of Chowan as $22 million of the endowment is dedicated to scholarships, making higher education possible for many individuals. Every donor makes a difference, and President Peterson stated scholarship donors "make it possible for Chowan to transform lives." He encouraged recipients and donors to interact and share experiences with one another during the meal.
Two senior students at Chowan shared their stories with guests. Though both have experienced different situations in life, scholarships have helped them become successful and motivated members of the community.
Ahmeika Jones, a member of the Department of Business and Honors College, is a scholarship recipient. She shared her story surrounding her struggles growing up and how dedicated and hardworking her mother was in order to provide for her family. She was taught that knowledge is power, so when she received a scholarship to continue her education, it boosted her confidence and allowed her to thrive. Jones stated, "Chowan became my home away from home," which could be proven as she interacted with peers and joined clubs such as Phi Beta Lambda, an organization catering to the Future Business Leaders of America. She gives credit and gratitude to the helpful Chowan faculty for her successful tenure at Chowan.
Harri Lovett, also a student in the Department of Business and a Presidential Ambassador, offered his sincere appreciation to his scholarship donors. Originally from Wales, he came to the United States to pursue his talent of soccer but soon realized that Chowan's tailored education was a passport for success just as much as athletics. He described Chowan as "a collection of hard-working, honest and obsessively caring human beings that create a truly special environment." Lovett advocated for the importance of scholarships and the overwhelming support donors offer students, and how it can ultimately impact lives.
Near the end of the luncheon, John M. Tayloe, Assistant to the President and Executive Director of Major Gifts and Planned Giving, stated "scholarships make it possible for students to receive the education they deserve." He prompted students to gift donors with a memento of appreciation.
Many students took the opportunity this event offered to get to know their donors and voice their appreciation. Donors are very important to Chowan and make it possible for a lot of students to continue their education.
Students are matched with scholarships based on their intellectual pursuits, extracurricular achievements, hometowns, and plans for the future, among other factors. SchStudents are matched with scholarships based on their intellectual pursuits, extracurricular achievements, hometowns, and plans for the future, among other factors. Scholarships are just one part of financial aid at Chowan. Donors establish scholarships to give back for aid they received as students, in memory of family members or friends, in honor of their class year, because they are thankful for the education they received, and a number of other personal reasons. This type of aid allows Chowan to admit students based on their ability to contribute in the classroom, on campus, in the community and to society not based on what their family can afford.
By Brook Woods-Pennell