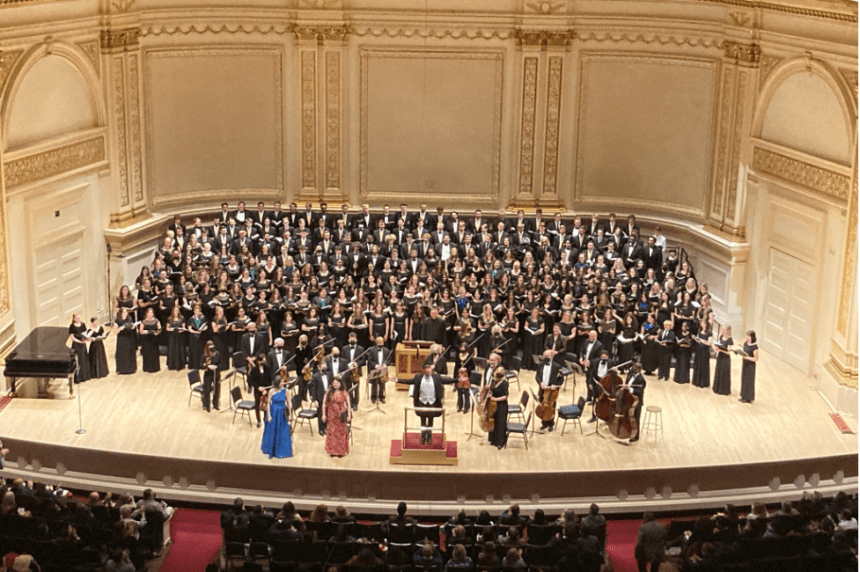 Chowan University Singers Perform at Carnegie Hall
Apr 1, 2022
by Kim Sherman Bailey
Months of rehearsal and anticipation finally paid off for members of the Chowan University Singers who traveled to New York City in March to perform at Carnegie Hall. Designed by architect William Burnet Tuthill and built by philanthropist Andrew Carnegie in 1891, Carnegie Hall is one of the most prestigious concert venues in the world. The Chowan University Singers last performed at Carnegie Hall in the spring of 2016.
The Chowan University Singers participated in a three-day residency at Carnegie Hall. Joining together with over 200 singers from schools across the nation, Chowan Singers performed in a festival concert of the Gloria by Antonio Vivaldi on Monday, March 28th in Carnegie Hall's Stern Auditorium.
Few musicians, even those of the highest caliber, ever expect to see the view looking out over the footlights to a packed audience at Carnegie Hall in New York City. It's a dream come true, the chance of a lifetime for the small group of Chowan students.
Student, Rachel Van Buren, a junior music major focusing on voice from Pittsboro, North Carolina, shared that, "performing at Carnegie Hall was a fantastic experience. The sound from our choir joined with others inside of the hall was beautiful and surreal! I enjoyed singing the Vivaldi Gloria with other fellow students that wanted to learn like me."
Dr. Benjamin Thorburn, Director of Choral Activities, added, "It's a thrilling opportunity for our students to perform in this historic venue and to take in the sights and sounds of New York City. Especially after the challenges we've faced during the past two years, this experience is a reminder of the beauty and the joy of choral singing."
Several faculty and staff accompanied the Singers, and John Tayloe, Assistant to the President Executive Director of Major Gifts and Planned Giving, escorted a group of University friends to New York to support the singers. The group included Linda Weaver and Jane Newsome (Trustees), Libby Jones (Friends of Music), James Moore (Member of the Board of Visitors), Catherine Spruill (supporter), and friend Keith Pendergraft with Hopper Piano and Organ Company.
This choral masterwork will be performed again in the Spring Choral Concert on campus on Saturday, April 23, and at the Suffolk Center for Cultural Arts on Sunday, April 24. Chowan Singers is under the direction of Dr. Benjamin Thorburn, Director of Choral Activities and Associate Professor of Music at Chowan University.