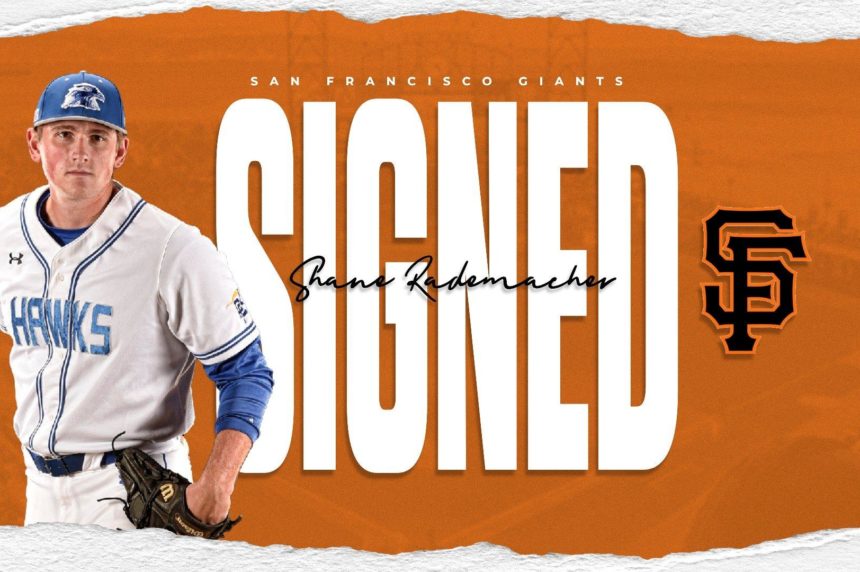 Shane Rademacher Signs With San Francisco Giants
Aug 9, 2023
by Staff Reports
Growing up, every child has someone that they idolize. It could be a family member, celebrity, professional athlete, or several other occupations. For most little boys the dream is to play a professional sport.
As for Shane Rademacher, that dream was no different. On August 4, 2023, Shane signed a minor league contract with the San Francisco Giants. The six-foot three-inch right-hander continued to hone his craft despite not hearing his name called in the Major League Baseball (MLB) draft.
"After not hearing my name called in this year's draft, I continued to play summer ball and try to put up some good numbers in hopes of signing an undrafted free agent deal," stated Shane Rademacher.
Throughout the Summer following his senior season, Shane went 3-1 with a 1.42 ERA with 39 strikeouts with the Wilson Tobs of the Coastal Plain League. Shane would display his skills against some of the best the region had to offer while with the Tobs posting a 7-1 overall record with a 3.00 ERA and 87 strikeouts during his four summers.
"Chowan gave me my only opportunity to continue my dream of playing baseball at the collegiate level. Coach Hill, Furlough, and Mayer gave me the freedom to grow and develop myself over the past four years and allowed me to continue to find what worked best for me, even when I might have struggled at times."
Shane wrapped up his career with Chowan tossing 213.2 innings with 224 strikeouts. Shane posted the second most strikeouts with the fourth most innings pitched in program history.
"Chowan gave me a home and a family that supported me. Without that support, I wouldn't be where I am today."
The Greenville, N.C. native and JH Rose HS product will start his professional journey in the Arizona Complex League (ACL). Shane will look to make his way up through the ranks of the minor league system with his first stop in Rookie Ball being with the ACL Giants Orange.
Shane becomes the second player in Chowan's NCAA era to be signed in the MLB joining former standout, Tyler Burden (20th round, 2015 draft).