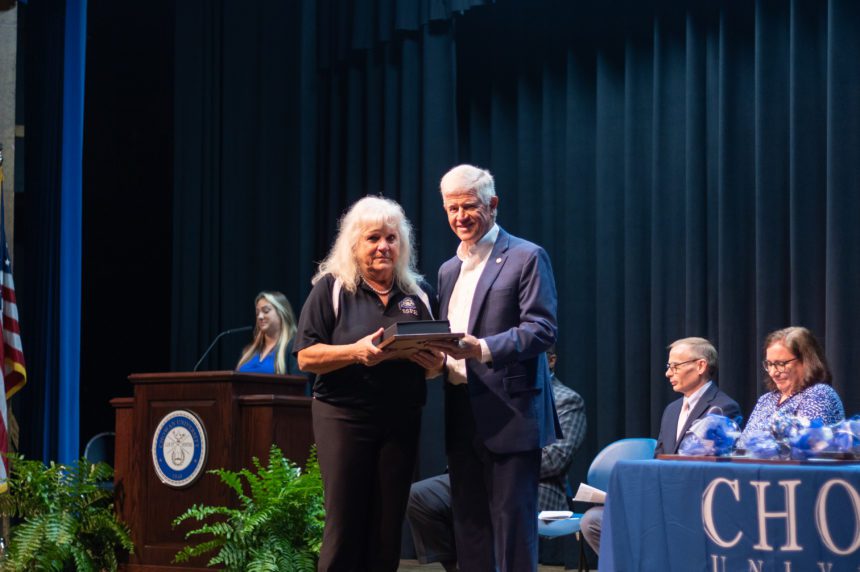 Chowan Congratulates Debbie Joyner on her Retirement
May 24, 2023
by Lou Ann Gilliam
Debbie Joyner has faithfully served Chowan University for over twelve years in multiple departments and is now retiring as the Secretary to the Dean of the School of Business & Design and Administrative Assistant to the Department of Sport Science.  Joyner is known throughout campus for her patience, kindness, and attention to detail.  
During the annual faculty and staff awards ceremony, Dean of the School of Business and Design, Dr. Hunter Taylor, delivered heartfelt remarks for Joyner. He shared how she made the office run efficiently and was grateful for her diligent preparation for events, like the recent annual Etiquette Dinner and Awards Ceremony. He also noted the natural connections she had with students as they sought her out for advice and candy.  Additionally, Taylor lovingly teased Joyner about being "neat-freak" and her stockpile of Lysol during the pandemic.   
Taylor continued sharing, "I will miss all of her contributions and more importantly, though, I will miss her. Her guidance, her advice, her wisdom, her encouragement. When I first began this role four years ago, Debbie was the one that helped maintain continuity. She was the one who knew how things work in the office, she kept me straight, and kept things running smoothly."
Reflecting on her retirement, Joyner praised her supervisors, Dr. Hunter Taylor and Dr. Tom Collins for the trust they placed in her. She shared, "what I will miss the most is working with all the hard-working dedicated people at Chowan, and I will really miss the students. Chowan has been like family to me."  
Please join Chowan University in congratulating Debbie Joyner on her retirement.