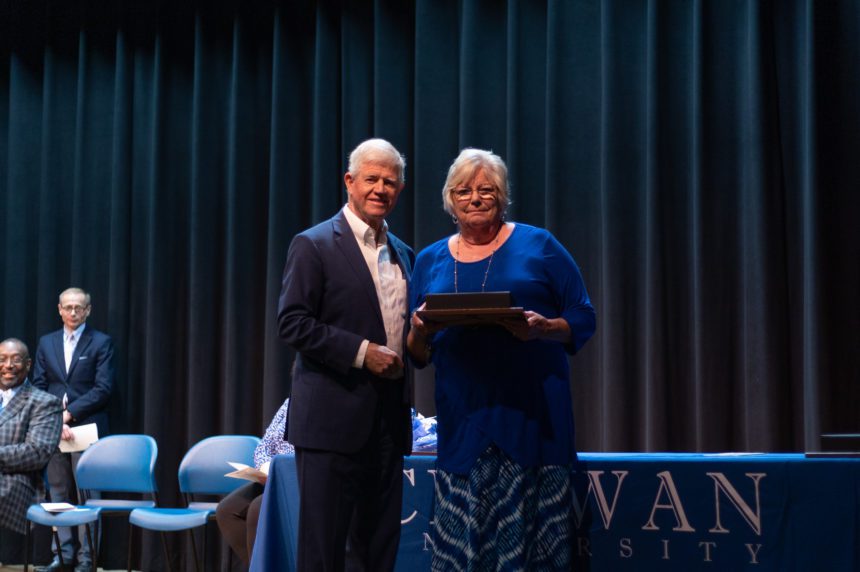 Chowan Announces Retirement of Disabilities Services Coordinator, Deborah Hinton
May 24, 2023
by Lou Ann Gilliam
On May 31, Deborah Hinton will retire from Chowan University. Hinton, an elementary education major, graduated from Chowan in 2000. She came to Chowan in 2017 in a full-time capacity as the Disabilities Services Coordinator after retiring as a teacher at Willis Hare Elementary in Northampton County. For several years, she worked during Chowan's Upward Bound summer and weekend programs teaching English composition. 
Provost, Dr. Danny Moore, celebrated Hinton during Chowan's annual faculty and staff awards ceremony. Moore noted Hinton's strong ties to the University as a graduate, Chowan spouse, and parent of a graduate. He shared that "she will be remembered as someone who elevated the accessibility services office to new heights." Moore continued praising Hinton for her hard work and optimistic disposition. He closed his remarks by sharing, "I will miss you, Debbie. We will miss you, Debbie, but, more importantly, our students will miss you."
Dean of Accessibility Services, Dr. Ella Benson shared Hinton's integral role in accessibility services, "Debbie has built nurturing relationships with the students and encouraged them like one would encourage family members – to work hard and do their best. Debbie truly cares about the students and her colleagues. She will be sorely missed in our department."  
Please join Chowan University in thanking Deborah Hinton for her service to students and congratulating her upon her retirement.