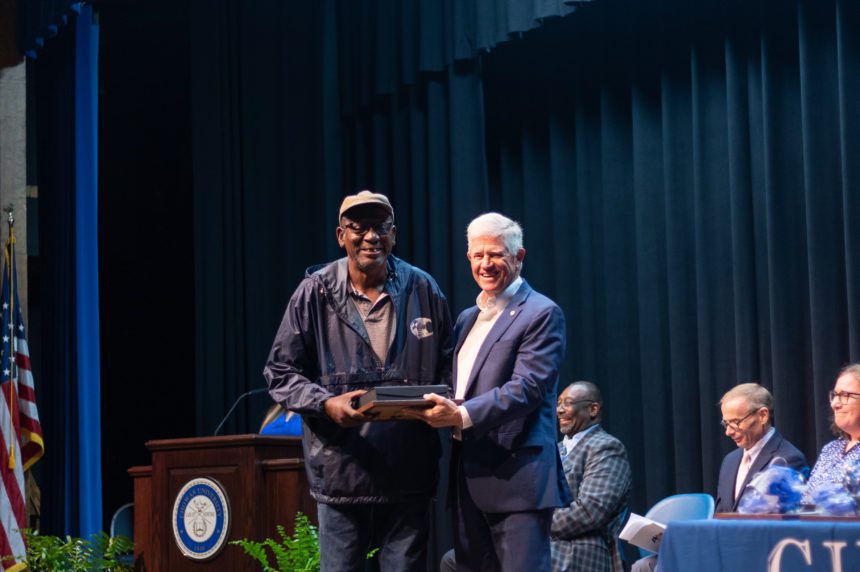 Bernard Vaughan Retires from Chowan after 38 Years of Service
May 24, 2023
by Lou Ann Gilliam
John "Bernard" Vaughan is literally one of Chowan University's most colorful characters. In fact, all of Chowan's color palette can be found somewhere on his clothes as he has served as University's designated painter for the last thirty-eight years.  
For the first ten years of his employment, Vaughan worked as a painter by day and in Housekeeping at night as the floor tech. Vaughan has always been quick to serve wherever needed.
Director of Facilities and Grounds Alex Chappell praised Vaughan for his faithful service at the annual faculty and staff awards ceremony on April 28. He noted Vaughan's painting skills as well as his keen ability to identify paint colors. He also expressed gratitude for Vaughan's help with after-hour maintenance issues, where his intervention prevented major emergencies. Chappell concluded his remarks by thanking Vaughan for all his contributions to the University. 
Please join Chowan University in congratulating John Bernard Vaughan on his retirement.