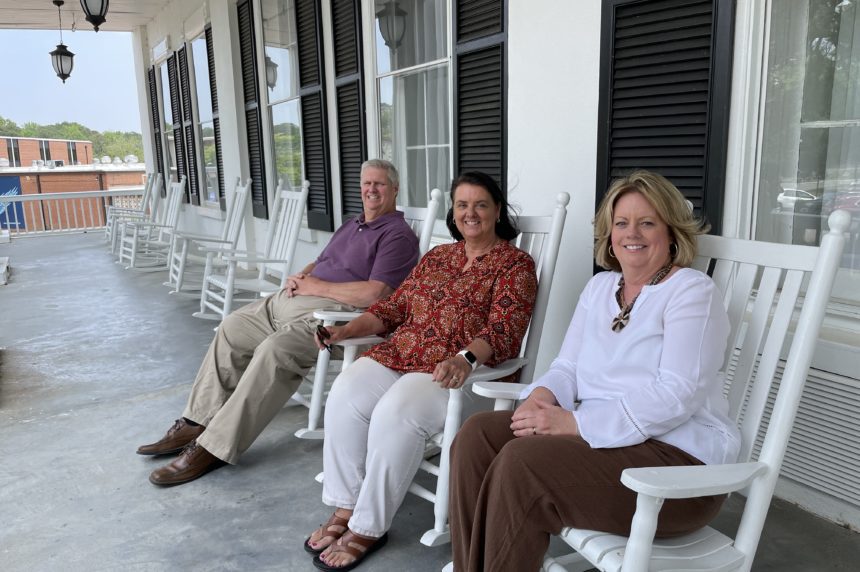 A Century of Knowledge Retires from Chowan University
May 24, 2023
by Kim Sherman Bailey
On May 31, a century's worth of knowledge and skills, but most of all, valued colleagues retire from Chowan University. Sherry Duncan, Julie Emory, and Jay Howell together have served the university collectively for 100 years in their respective roles. All three have helped the University navigate through major transitions. They were each recognized for their service at the University's annual faculty and staff awards ceremony on Friday, April 28.
Sherry Duncan has served the University since 1986 in the roles of Systems Operator, Database Administrator and will retire as a Human Resources Generalist. Human Resources Director Elizabeth Hedrick delivered remarks sharing how Duncan's "institutional knowledge is irreplaceable" and noted her expertise with the University's database. She also praised Duncan for being a vital Chowan employee and expressed appreciation for her knowledge of the University's internal processes and procedures.
Julie Emory began working at Chowan in 1987, first in Accounts Receivable and is retiring as the Director of Business Services/Payroll Coordinator. During the ceremony, Assistant Vice President for Business Analytics/Audit & Controller Stephanie Furlough delivered heartfelt remarks about Emory, describing her as the "co-worker you hope to have in the office beside of you." Furlough praised Emory for her "high-quality work and dedication" and for modeling how to be a professional, as well as a mom and wife. She also shared Emory's ability to help folks relax with well-timed 'dad' jokes. Above all, she praised Emory for being "kind, thoughtful, and an all-round, wonderful human being."
Jay Howell has been with Chowan since 1997, serving first as Network Administrator, and is now retiring as Assistant Vice President of Information Technology. Provost. Dr. Danny Moore praised Howell for his many years of service and his leadership in guiding Chowan through "periods of dramatic change in computer technology and information systems during his tenure." Moore continued sharing that Howell "always has a solution for a problem" and concluded his remarks by sharing his admiration for Howell being a "good and decent man."
The retirement of these three individuals means saying goodbye to employees that have contributed so much to the University. They each have used their skills to make a difference at Chowan. Please join the University in thanking them for their faithful service and congratulating them on their retirement.