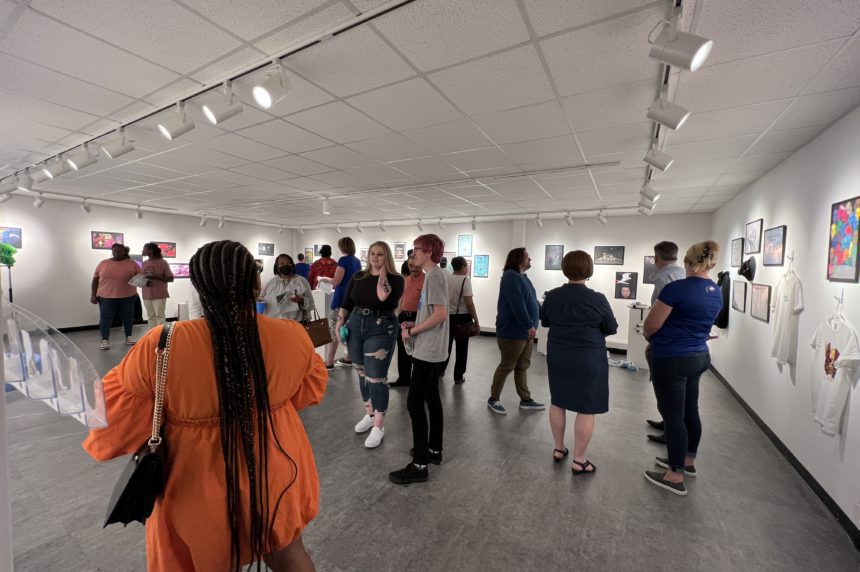 Chowan University Hosts Senior Art Exhibition and Reception
Apr 24, 2023
by Kim Sherman Bailey
On Friday, April 21st, in the Green Hall Galleries on the Chowan University campus, this year's graduating class of Graphic Design and Studio Art majors showcased their Senior Art Exhibition and were honored with a reception.
This exhibition featured culminating bodies of artwork produced by the 14 graduates: Jaylen Baucom, B.S. Graphic Design, David Clark, B.S. Business and Design, Hamilton Darden II, B.S. Graphic Design, Morakinyo Fadahunsi, B.S. Graphic Design, Tiyonte Flood, B.S. Graphic Design, Giovani Harris, B.S. Graphic Design, Khwan Mickens, B.S. Graphic Design, Azize Moore, B.S. Graphic Design, Koray Sessoms, B.S. Graphic Design, Jachovi Smith, B.S. Graphic Design, Tyrone Smith, B.S. Graphic Design, Destiny Vaughan, B.S. Graphic Design, Chris Ward, B.S. Graphic Design, and Ashante Whitley, B.S. Studio Art, Pre-Art Therapy Track.
As part of the requirements for graduation, all seniors participate in exhibiting a culminating body of artwork, representing their strongest pieces to date.

Jason Fowler, Assistant Professor of Graphic Design and Coordinator for the Senior Art Exhibition, shared, "I am so proud of our Seniors. The amount of time, thought and care that they put into their work and the presentation of the work within the exhibition space is a sight to behold. They worked to take our program to new heights this year and exceeded that goal in astounding measure. Our Seniors shared their talents with our campus and, in the process, set a new standard for our program going forward. I am so grateful to each and every one of them and thankful that I got to play even a small part in each of their individual journeys as graphic designers and artists."
The Senior Art Exhibition will run through April 28th. Normal gallery hours are Monday – Thursday from 9:00 am to 5:00 pm and Friday from 9:00 am to 3:00 pm. For more information, Jason Fowler at jsfowler@chowan.edu.