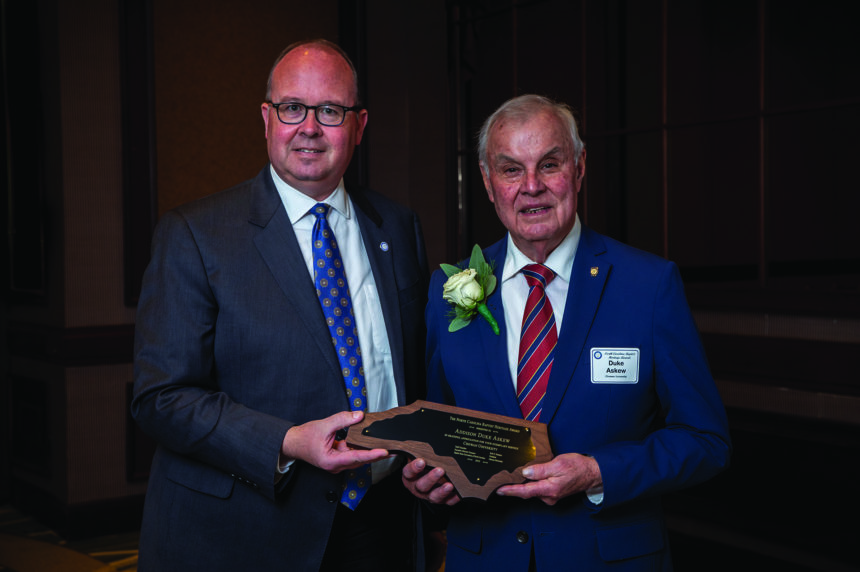 John M. Tayloe '94 Assistant to the President Executive Director of Major Gifts and Planned Giving (left) presented the award on behalf of Interim Present Charles E. Taylor, Jr. for Chowan University to Duke Askew (right)
Duke Askew Honored with 2023 NC Baptist Heritage Award
Apr 11, 2023
by Kim Sherman Bailey
At an event held at the Sheraton Greensboro at Four Seasons, Koury Convention Center on Tuesday, April 4th, on behalf of the Baptist State Convention of North Carolina and the North Carolina Baptist Foundation, Chowan University honored Addison Duke Askew with the NC Baptist Heritage Award for 2023. Mr. Askew was one of thirteen individuals representing institutions and agencies affiliated with the Convention.
It was only fitting for Chowan to honor a native son for the award this year. Chowan is celebrating 175 years of faithful service. This month in 1848, the meeting at Mulberry Grove was held, and the vision was shared for Chowan to be formed. The award recognizes Duke's investment in the next generation of scholars and his unwavering support of the church throughout his life.
Duke grew up on a tobacco farm in Powellsville, NC, and was raised in the fellowship of Powellsville Baptist Church. He graduated from Mars Hill High School in 1956 and attended Kee Business School, a business college in Norfolk, VA. Together, Duke and his late wife, Rose Jernigan Harrington Askew, have three children and three grandchildren. Rose and his son, Jason, are graduates of Chowan University (then Chowan College). A faithful supporter of Chowan University and the scholarship program, Duke has honored the memory of his parents, Jesse and Margaret Askew and Rose, with scholarships in the Psychology Department. These scholarships address critical issues affecting today's world: the root causes of America's rising violence and moral decay. Likewise, he has remembered them by generously supporting the Chowan Chapel Campaign.
An employee with Barnes & Sawyer Grocery Wholesales in Ahoskie, NC, Duke was drafted by the US Arm in 1961. Following signal school at Ft. Gordon, GA, he was stationed in Kaiserslautern, Germany. He developed a love of Europe and Germany in particular, traveling there later in life.
Professionally, Duke was employed with Sherwin Williams for 20 years and developed his own business, Askew's Decorating Center, specializing in sales of paint, wallcoverings, carpet, and tile. In retirement, he maintains a keen interest in real estate and the stock market, especially Sherwin Williams Stock.
Active participation in church and the community has remained constant throughout his life, serving as a 50-year Mason at 216 Sandston Masonic Lodge. He is a member of Sandston Baptist Church, Sandston, VA, and also attended Corinth Methodist Church with Rose. A lifetime churchman, Duke ministers to bereaved families at a nearby funeral home in Henrico County.
Present in Greensboro on behalf of Chowan University were members of his family, daughter Nancy Askew Sheleheda, Son Jason Askew, granddaughter Alyssa Askew, sister Rosa Swain and brother-in-law Buzzy Swain along with Vice President for Advancement Andy Wilson and Special Assistant to the President and Executive Director of Major Gifts and Planned Giving, John M. Tayloe, who shared the sentiment, "Mr. Askew indeed has faith in the future of Chowan University."
Please join Chowan University in congratulating Mr. Askew as the recipient of the 2023 NC Baptist Heritage Award.