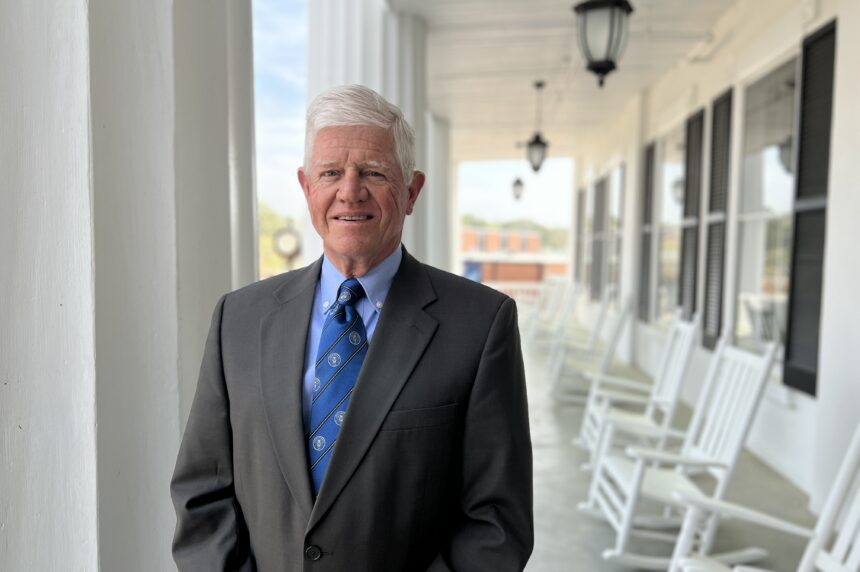 Chowan University Names Charles "Chuck" Taylor Interim President
Mar 29, 2023
by Kim Sherman Bailey
Chairman Kemper Baker announced to faculty and staff today that the Board of Trustees has named Charles "Chuck" Taylor as interim president of the University, effective tomorrow, Thursday, March 30, 2023.
Charles E. Taylor, "Chuck," has spent the last 54 years serving higher education institutions in North Carolina. A native of Rocky Mount, NC, he holds a B.S. in Business and a Master of Business Administration from East Carolina University. Mr. Taylor began his career in 1968, serving as an instructor and soon after the Vice President for Business at Nash Community Technical Institute, now Nash Community College. After serving in a similar capacity at Vance-Granville Community College, he became the Vice President for Business and Finance at Meredith College in Raleigh, NC in 1983. He spent 17 years there, becoming the Executive VP and in 1998, serving as interim president. In 2000, Mr. Taylor joined Wingate University as Executive VP and CFO and retired from full-time service in 2011.
Since 2011, Mr. Taylor has held part-time or interim positions at North Carolina Independent Colleges and Universities in Raleigh, Wingate University, Barton College in Wilson, NC, and North Carolina Wesleyan University in his current home of Rocky Mount. He has also worked as an independent consultant for Wingate, Wesleyan, and Shaw University in Raleigh.
Mr. Taylor and his wife, Carol, have been married for 54 years and have three grown daughters and five grandchildren. He has served as a deacon in four different Baptist churches and chair of deacons in three of them. He and Carol are currently members of Lakeside Baptist in Rocky Mount.
"On behalf of all of the Board of Trustees, I am delighted that Mr. Taylor has accepted the position as interim president of Chowan University," said Chairman Baker. "As we chart the course forward with Mr. Taylor at the helm, continuity is paramount. We are grateful Dr. Harold Babb stepped in as acting president, and he will continue to play a vital role in the university. With the momentum Dr. Babb has established in the four weeks as acting president, he will be instrumental in continuing the efforts to develop a clear mission, vision, and identity for the university as part of the ongoing strategic planning effort."
Dr. Babb expressed in the faculty staff meeting announcing Mr. Taylor that he "looks forward to working with Mr. Taylor and to continue building toward a bright future for Chowan University."