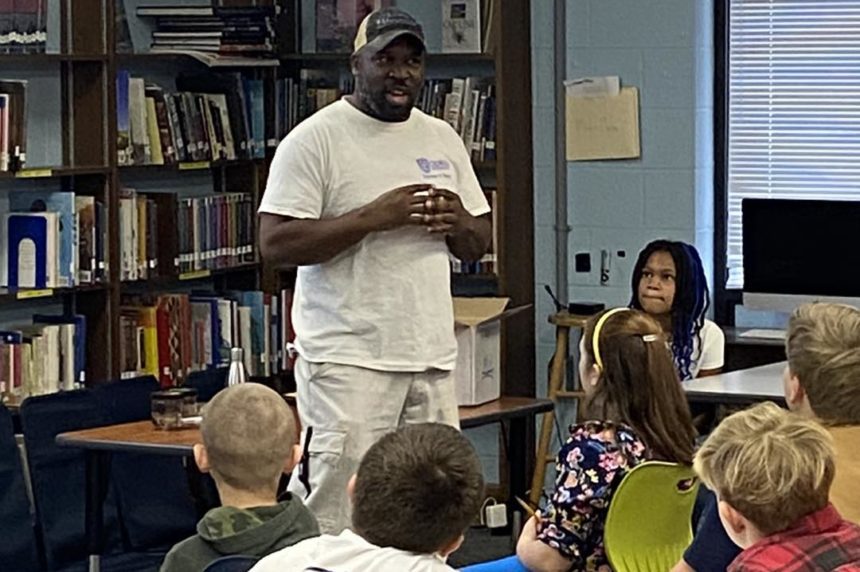 Photo courtesy of Ridgecroft School
Dr. Gill Served as Guest Scientist at Ridgecroft's Science Day
Mar 28, 2023
by Kim Sherman Bailey
On Thursday, March 23rd, Dr. Torrence Gill, Assistant Professor of Biology at Chowan University, served as a guest scientist during Ridgecroft School's Science Day. He was a guest alongside Zach Holder, chief meteorologist of WITN 7 out of Washington, NC.
Dr. Gill shared a presentation with the 3rd and 5th-grade students called "what is an insect". They discussed the unique characteristics that would classify insects as an insect. Dr. Gill was impressed by the students' knowledge and felt some future entomologists were in this group of kids. They then reviewed photos of different arthropods and asked if it was an insect or not. This allowed for more discussions about what the arthropod/insect would eat, their life cycles, where one would find them, and student experiences with them. The presentation ended by discussing bees and their importance to the world.
To be able to provide an added level of engagement, Dr. Gill collaborated with NC State, sharing, "I would like to thank the NC State Department of Entomology; in particular Dr. Coby Schal and his research specialist Dr. Rick Santangelo for sending me specimens to share with students." The specimens presented were American Cockroaches, Smoky Brown Cockroaches, German cockroaches, and Bedbugs. The students were particularly interested in the bedbugs.
To learn more about Chowan University or engage in our Academic Outreach Program, visit chowan.edu.