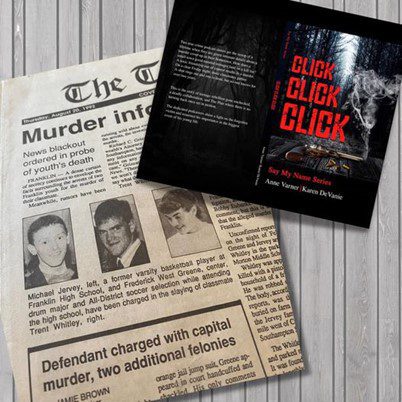 Local Authors Talk with Criminal Justice Students
Mar 27, 2023
by Staff Reports
On Friday, March 24th, Dr. Pamela Woodard's Criminal Justice 410 Senior Seminar class had a Zoom event with the authors of "Click, Click, Click," Anne Varner and Karen DeVanie. The authors, who are sisters from nearby Franklin, VA, started a Podcast called "Sugar Coated Murder." The event had over 25 attendees, including some residents of Franklin, VA.
During the event, Varner and DeVanie shared information on a "forgotten victim" and resurrected the importance of the biggest event in his life. In 1992 West Green was arrested and charged with capital murder and use of a firearm at 20 years old. Greene and his friend, Michael Jervey, fatally shot their 17-year-old classmate, Trent Whitley, then buried him on a farm owned by Jervey's parents. At that time, Dr. Woodard worked for the Commonwealth Attorney's Office and was present in the courtroom during the trial.
The authors, for the first time since the book was published, revealed their source was one of the young men convicted of the murder, Michael Jervey, who confessed to the murder after two years and met with the two authors as well as the lead investigator. Jervey took a plea deal and only served six years. Greene is also out on parole and living in North Carolina. The sisters shared that they are working on a second book and again featuring a murder that occurred in Franklin, VA.
Follow Chowan Criminal Justice on Facebook by clicking here.