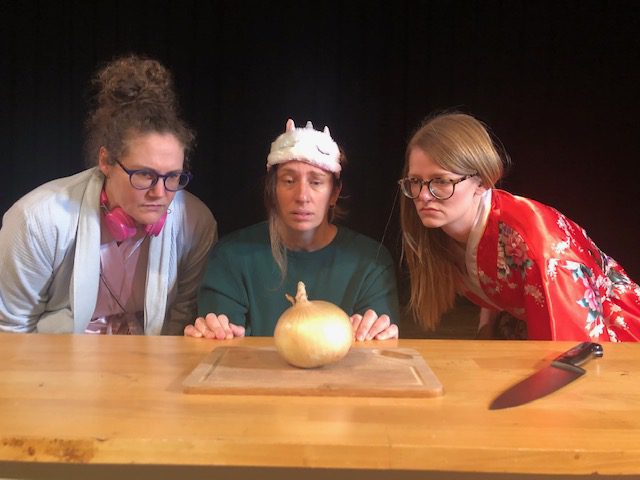 Three Women and an Onion at Chowan University
Mar 14, 2023
by Staff Reports
Chowan University Theatre will present Ryan Bultrowicz's short comedy, Three Women and an Onion on March 31, April 1, and April 2 at Chowan University.
A mysterious onion keeps reappearing in the kitchen of three middle-aged roommates. Sammie wants to throw it out, Kelli wants to chop it in half, and Erica kinda likes it. As the friends peel back the layers of the mystery, feelings of fear and anxiety quickly rise to the surface. But when the bloomin' onion begins to fight back, the intent of the onion rings true—and it isn't good.
Ryan Bultrowicz's fast-paced, short comedy is an absurdist look at how we tend to make mountains out of, well…onions. It will have you laughing and wondering if an onion is just an onion…or maybe it's much, much more.
The cast consists of three local community actresses, including Lori Harders, Deborah Stanley, and Erin Messer. Steven Harders, Professor of Speech & Theatre at Chowan, directs.
Performances are Friday, March 31, and Saturday, April 1 at 7 pm, and Sunday, April 2 at 2:30 pm. Performances take place in Turner Auditorium in the McDowell Columns Building on the Chowan University campus. There is no charge for admission, but donations will be accepted. All donations will benefit a local nonprofit, CULTIVATOR, Inc, — promoting rural literacy, food access, and creativity.
Summary:
Three Women and an Onion
A short comedy by Ryan Bultrowicz
March 31 & April 1 at 7 pm
April 2 at 2:30 pm
Turner Auditorium on the Chowan University Campus
Free Admission. Donations accepted for the Cultivator, Inc.