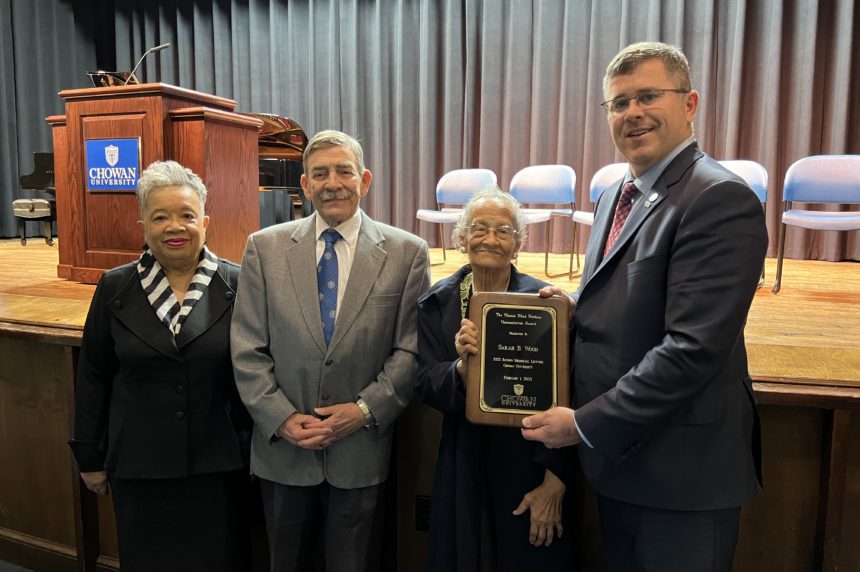 Sarah B. Wood receives Minnie Wood Perkins Humanitarian Award at Rouson Memorial Lecture
Feb 1, 2023
by Lou Ann Gilliam
On February 1, 2023, Sarah Bishop Wood was honored with the 2023 Minnie Wood Perkins Humanitarian Award at the Rev. George T. and Mrs.
Luvenia B. Rouson Memorial Lecture in Turner Auditorium hosted by Chowan University and the Town of Murfreesboro.
Sarah B. Wood is a matriarch to her family and community. A Hertford County native, she left the family farm at eighteen and moved to Murfreesboro after marrying James Wood in 1946. She and Mr. Wood raised seven children and were married for 66 years until his death in 2012. Mrs.Wood provided for her family by assisting many families in Murfreesboro with housekeeping, cooking, and child care. Her philosophy with children was to always "make them mind" to keep them safe and to nurture them into kind citizens.
Mrs. Wood's last place of employment was Town and College Laundry. She took care of the laundromat and made the customers feel welcome with her warm personality. Mrs. Wood is locally famous for her delicious sweet potato jacks. After so many requests, she sold them for many years. Folks still ask for this special treat and she encourages them to try the recipe for themselves.
New Haven Baptist Church is Mrs. Wood's church home, and she also has ties to First Baptist Murfreesboro. Mrs.Wood has always enjoyed helping her neighbors and community with her gift of hospitality.
Mrs. Alice Eley Jones, one of the Rouson Memorial Lecture organizers, shared, "Mrs. Wood is one of our community mothers. She has always worked tirelessly behind the scenes to take care of people. It is wonderful that we can honor her with this award."
The Minnie Wood Perkins Humanitarian Award honors an individual who dedicated their life to the well-being of community members and their families. Minnie Wood Perkins was born in Northampton County on January 31, 1910, to Will and Jane Flood Wood. She attended Waters Training School in Winton. She married Claude Deans in 1929 and their only child, Iris, was born in 1931. Later, she married Charlie Perkins and worked as a domestic until she was encouraged by Dr. Futrell of Murfreesboro in the late 1940s to seek a career as a midwife. With the help and encouragement of Reverend and Mrs. Rouson and Dr. Futrell, Minnie Wood Perkins attended classes in Fayetteville. She had nearly a 40-year career of midwifery and newborn care at one time, she assisted nearly every black and white child within Murfreesboro and the immediate area. Mrs. Perkins was a member of the First Baptist Church and several fraternal organizations. She counseled family and community members in times of family stress. Mrs. Perkins died in 1995, maintaining a legacy to this day that her family, church, and community have come to embrace.