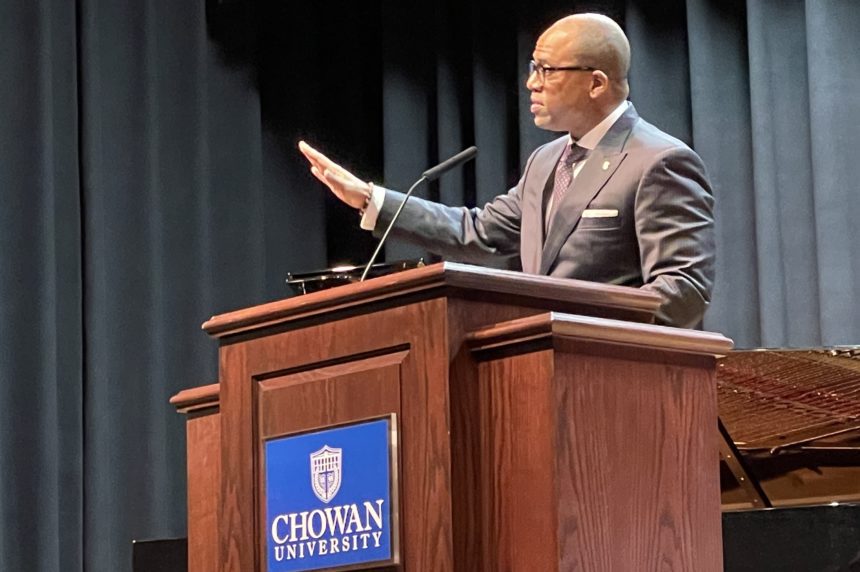 Rouson Memorial Lecture features Dr. Jonathan "Jay" C. Augustine
Feb 1, 2023
by Lou Ann Gilliam
On February 1, Rev. Dr. Jonathan "Jay" Augustine was the guest speaker at the Rev. George T. and Mrs. Luvenia B. Rouson Memorial Lecture hosted by Chowan University and the Town of Murfreesboro.
The occasion began with a word of welcome from Minister to the University, Rev. Mari Wiles followed by an invocation by Rev. Roger Myrick, Minister at Mill Neck Baptist Church and grandson of Rev. and Mrs. Rouson.
Staff pianist and accompanist, Dejuan Lee and members of the Chowan University Gospel Choir, Camille Wright '26, and Fallon Carmichael '24 led the "Star Spangled Banner" and "Lift Every Voice and Sing." Greetings were given by the Mayor of Murfreesboro, The Honorable Hal Thomas. Following his remarks, Town Council Member, Rev. Berna Stephens, shared the Rouson Legacy and the Reason for Gathering. She also presented awards to the Futrell/Ruffin Community Service Award recipient, Rev. Dr. James W. Shearn, and the Minnie Wood Perkins Humanitarian Award to Mrs. Sarah B. Wood. Following the award recognitions, Rev. Stephens introduced Dr. Augustine.
Dr. Augustine is the senior pastor of St. Joseph AME Church in Durham, NC and general chaplain of Alpha Phi Alpha Fraternity, Inc. He serves as a visiting law professor at North Carolina Central University. At Duke University Center for Reconciliation, Dr. Augustine serves as a missional strategist. Along with preaching and teaching, Dr. Augustine is also an author, his latest books are Called to Reconciliation: How the Church can Model Justice, Diversity, and Inclusion (Baker Academic, 2022) and When Prophets Preach: Leadership and the Politics of the Pulpit (Fortress Press, 2023).
Dr. Augustine delivered a passionate lecture titled "Dante's Call for Democracy: Student Activism in a Time of Crisis." The crux of his message featured Dante's famous words from The Divine Comedy, "The hottest places in Hell are reserved for those who, in time of moral crisis, preserve their neutrality." With this emphasis, he reminded the audience of the fragility of democracy and that "America is at war with itself over the right to vote." Augustine continued to remind the listeners of the history of voting rights and the hindrances still present. He urged listeners to be activists like Rev. George Rouson. He concluded his message with the charge, "whatever you do, become involved. Argue for democracy and don't let election deniers take us back to the dark days that are long gone. Remain engaged and argue for action. We need a new voting rights law in America."
Following the lecture, Mayor Thomas presented Dr. Augustine with the Rouson Award to recognize the occasion. Student Body President and Rouson Memorial CCSA Scholarship recipient, Kashara Simpson delivered the benediction.