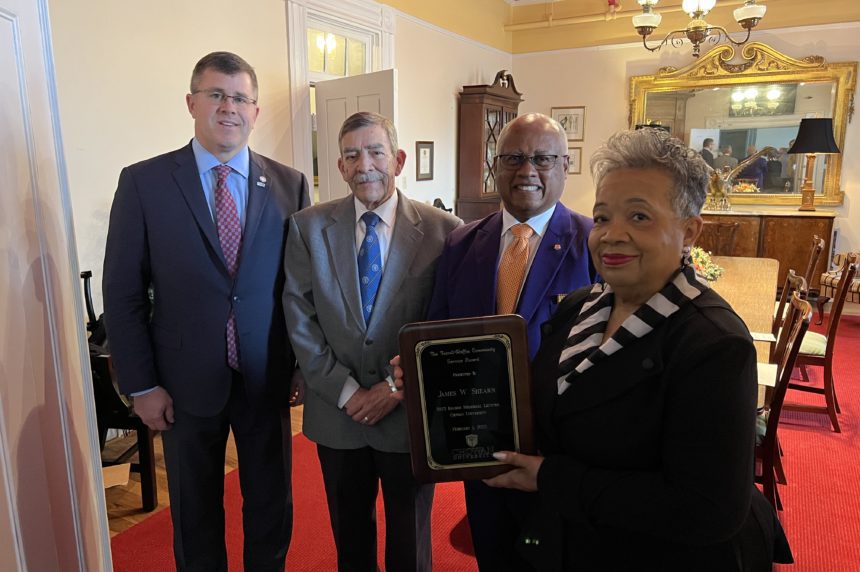 Futrell/Ruffin Community Service Award presented to Rev. Dr. James Shearn Award during Rouson Memorial Lecture
Feb 1, 2023
by Lou Ann Gilliam
On February 1, 2023, Rev. Dr. James W. Shearn was honored with the Futrell/ Ruffin Community Service Award at the Rev. George T. and Mrs. Luvenia B. Rouson Memorial Lecture Rouson Memorial Lecture hosted by Chowan University and the Town of Murfreesboro.
A lifelong resident of Hertford County, Rev. Dr. James W. Shearn has served his community well. He is a proud alumnus of C.S. Brown High School in Winton, NC. He studied at North Carolina Central University, Durham, NC, and later graduated from the Newport News Shipbuilding Company Apprentice School. He received a Baccalaureate Degree in Business Management from Shaw University, Raleigh, NC; a Master of Divinity Degree, and a Doctor of Ministry Degree from the Samuel D. Proctor School of Theology at Virginia Union University, Richmond, VA.
Reverend Dr. Shearn is the Senior Pastor of Jordan Grove Missionary Baptist Church of Winton, NC, where he has proudly served for the past 35 years. He retired from Newport News Shipbuilding Company, Newport News, VA, after nearly 42 years of continuous service. He also retired from Shaw University C.A.P.E., Ahoskie, NC after working 10 years as an adjunct professor in the Religion and Philosophy Department. He just completed serving a four-year term as a member of the Hertford County Board of Education.
His involvement as a community leader includes having served as President of the Hertford County Branch NAACP #5403. He is a lifetime member of the oldest civil rights organization in the United States. He is actively involved with the West Roanoke Missionary Baptist Association and serves as a member of the Catechism/Ordination Committee. Reverend Dr. Shearn has dedicated his time to numerous organizations, including serving on the Chowan University Ministerial Board, the Chowan Area Development Association (CADA) Board, and the Hertford County Democratic Party.
He has been married to Mrs. Patricia L. Shearn, former Magistrate of Hertford County, for 51 years, and they are the proud parents of three children; James Shearn Jr. (deceased), Beatrice Shearn-Foster, and Tiffany Shearn-Johnson. They are the proud grandparents of eleven grandchildren and three great-grandchildren.
The Futrell/Ruffin Community Service Award honors two established Murfreesboro families, the Futrells and the Ruffins. Lokie Melton Futrell served his community with expert medical care. From 1915 to 1963, Dr. Futrell had a family practice in Murfreesboro. He was loved and respected by all who knew him. The Ruffin Family is well-known to all citizens of the Murfreesboro community. The late Jacob Ruffin established a family grocery business on Main Street and expanded it by adding a furniture store. He served as a Murfreesboro Town Councilman for many years and was devoted to all town citizens. Samuel Ruffin learned many skills from his brother, Jacob, and became an entrepreneur when he opened his own business, Ruffin Motor Sales. Other members of the Ruffin Family have contributed a great deal to the Murfreesboro community.