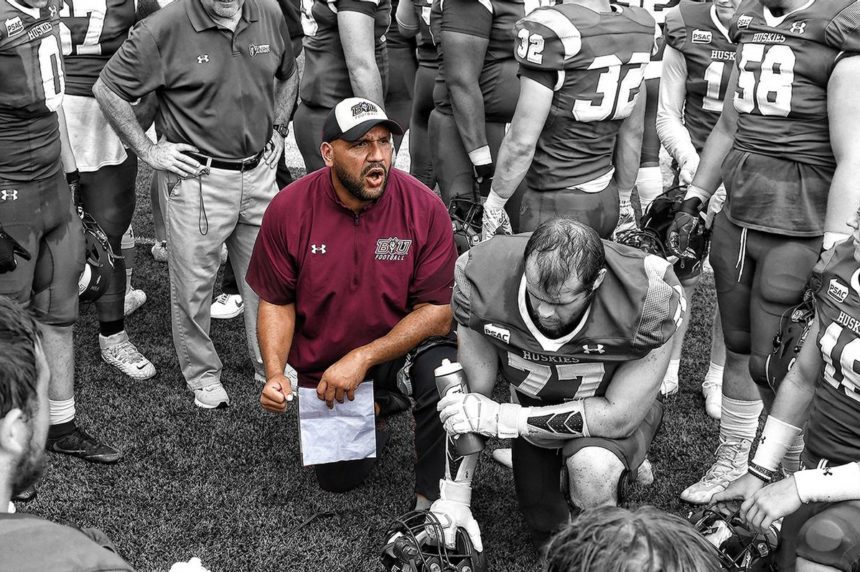 Paul Johnson Tabbed As Head Football Coach
Jan 13, 2023
by Staff Reports
Formal Introduction on January 26
Chowan University and Vice President for Athletics, Patrick Mashuda, announced Friday afternoon Paul Johnson as the ninth Head Football Coach in program history.
Johnson comes to Chowan by way of Bloomsburg University, where he served as the Offensive Coordinator along with coaching the Tight Ends and Wide Receivers for the past two seasons. During his first season with the Huskies, Johnson averaged 304.2 yards per game in the PSAC East including a 700+ yard rusher.
Prior to his stint with the Huskies, Johnson spent a decade at Charleston (2011-2021). His first six seasons, Johnson served as the Run Game Coordinator and Offensive Line coach. Four of those seasons, the Golden Eagles rushed for over 200 yards per game. Johnson helped UC to their first postseason appearance in program history in 2015 when the Golden Eagles went 10-2 after averaging 41.1 points and 241.3 rushing yards per game.
In 2017, Johnson was promoted to Offensive Coordinator. During the 2019 season, the Golden Eagles produced a 3,000 yard passer, 1,000 yard receiver and a 1,000 yard rusher. Johnson guided Michael Stratchan to All-American status along with being drafted in the 2021 NFL Draft to the Indianapolis Colts.
During his time with the Golden Eagles, Johnson produced 17 All-Conference Offensive Linemen along with ranking in the top-25 nationally in offensive categories.
Prior to his time at Charleston, Johnson served as a Graduate Assistant at Marshall and West Virginia. Johnson helped West Virginia make appearances in the Meineke Car Care Bowl and Gator Bowl.
"First and foremost, I would like to thank the committee that worked diligently to identify our top candidates for this position," stated Mashuda. "We are excited about what Coach Johnson and his family will bring to our campus community. We look forward to moving into a new era of Chowan football with Coach Johnson at the helm."
The Hawks football program is coming off back-to-back seven-win seasons along with the program's first-ever CIAA Northern Division Title in 2022.
"We welcome Paul and his family with open arms to the Chowan University community," added Dr. Kirk Peterson, President of Chowan University. "Paul brings a wealth of experience at the NCAA D2 level that will be an asset to the football program. We want to see continued forward progress with our football program and, moreover, as young men that will go out into the community after graduation."
A formal press conference will be held on January 26 at 2:30 pm in the Pond Center team room on the campus of Chowan University. An announcement will be made regarding the program's conference affiliation at that time, along with the 2023 fall football schedule.
"Coach Johnson laid out a vision for the program that the committee and those involved in the hiring process really got behind," continued Mashuda. "We are happy to have that part behind us and look forward to building upon the successes of the past few seasons."
Three coaches remained on staff during the transition, led by Leon Eason. Eason, along with defensive back coach Jarius Marlow and offensive line coach Andrew Sparano will remain on staff.
"I want to speak to what a great job Coach Eason did in leading our staff and team on an interim basis. Coach Eason is a class act and helped throughout this entire process. Coach Marlow and Coach Sparano have assisted keeping the team together and the recruiting process moving forward," stated Mashuda. "I cannot thank these coaches enough for their leadership during this tough transition period."
Coach Johnson will begin his tenure as the next football coach at Chowan immediately.
"First off, I want to express my family's excitement about the opportunity to be a part of the Chowan Football program and the community," said Paul Johnson. "Where the program is, and the vision makes our family a great fit. We want to thank Dr. Kirk Peterson, Athletic Director Patrick Mashuda, and the committee for putting their faith in me to be the next head coach."
The Parkersburg, W.Va. native played collegiately at Ohio University under Frank Solich. Johnson was a three-year starter at left guard and helped the Bobcats to their first bowl appearance since 1966, appearing in the GMAC Bowl in 2007. Johnson received his Bachelor's degree in Recreation Management from Ohio in 2008 and received his Masters from West Virginia in Athletic Coaching Education in 2010.
Paul is married to his wife, Kristina, and they have a daughter – Bradleigh and son – Kyran.
Individuals that are not able to attend can view the press conference on the Chowan Digital Network (gocuhawks.com/live). Media members that are unable to attend and would like to ask questions, feel free to inquire at gocuhawks@chowan.edu.