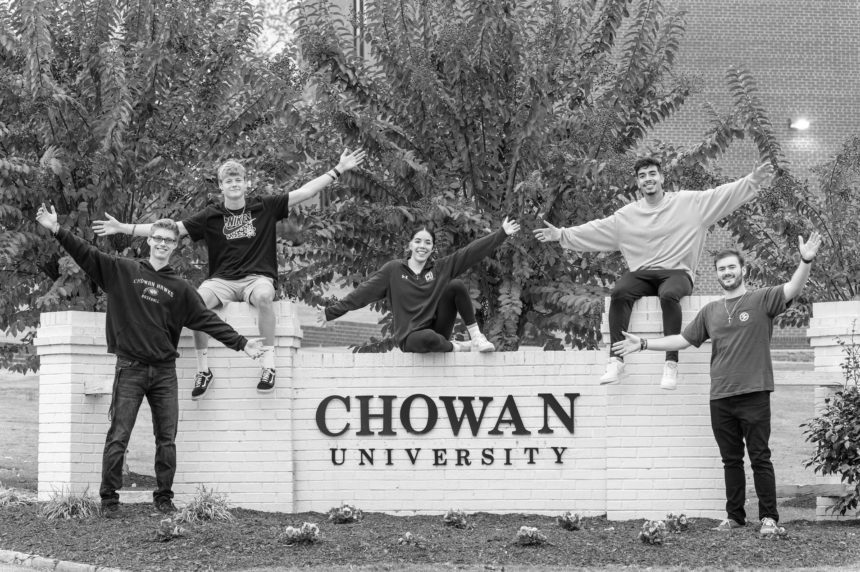 Chowan University Admissions Hosts Local Schools
Dec 16, 2022
by Staff Reports
Over the past few weeks, the Office of Admissions at Chowan University has greeted over 150 students from six local schools. Through group visits and our academic outreach programs, students of all ages visit Chowan and learn from our expert faculty and staff, experience life on a college campus, and even enjoy a meal in our dining hall. 
Hertford County High School, led by School Counselor, Crystal Parker, had seventeen seniors experience what Chowan offers. They enjoyed a campus tour led by student tour guides Caleb Peterson and Ke'Shawn Taylor, along with Admissions Counselors Christy Horton and Job Williamson. While on tour, the students had a chance to ask questions to some of our current students about daily schedules and involvement opportunities on campus. After the tour, the group enjoyed lunch in the dining hall, where they mingled with Chowan students. Following lunch, the group had an informative presentation from Anna Eure, Associate Director of Admissions Data and Operations, where she talked through the enrollment process and shared the scholarship opportunities they could receive just by applying and getting accepted. Students also asked thoughtful questions about the university and college life. 
Chaloner Middle School brought 36 students under the direction of Justin Sandeford, a teacher at Chaloner and a Chowan alumnus. The middle schoolers toured the campus with current students Cameryn Barrow, Jordan Goodfellow, and Ke'Shawn Taylor, then enjoyed lunch in the formal dining space adjacent to the dining hall so they could have the opportunity to ask questions of the Chowan students and staff.
Halifax County students from Northwest Halifax High School, Southeast Halifax High School, and Halifax Early College visited to gain insight into academic, athletic, and student life. Northwest Halifax School Counselor Doreen Tubbs coordinated the visit with nearly seventy-five students who arrived on campus at the Pond Football Center, where they saw the football complex and met with Admissions Staff in the player's meeting room to learn more about the university and enrollment process. After the opening session, the campus tour was led by student tour guides Ke'Shawn Taylor, Caleb Peterson, and Jordan Goodfellow, along with Admissions Counselors Olivia Gaither, Christy Horton, Job Williamson, Zoe Beale, and Blake Rutledge to help answer any questions. After the tour, the students joined the entire Admissions Staff in the dining hall for lunch, where we dined with current Chowan students.
Franklin High School (Virginia) enjoyed visiting campus and seeing their former teacher, Calvin Carter, a Chowan alum and current Minister of Engagement at the university. The group of ten was welcomed by admissions representative Christy Horton, who delivered an overview of the university and the enrollment process. Student tour guides Caleb Peterson and Cameryn Barrow assisted in the campus tour, showing the main academic facilities, freshmen residence halls, and the Hawks Nest (student center). 
Fifth-grade students from Colerain Elementary School visited campus for exciting activities through our Academic Outreach Program. Their teacher, Sandra Smith, shared that this group of students did outstanding work and had great attendance during COVID and when they were transitioning back into a normal routine with school. Her hopes were to show these students that with hard work and dedication, this is a very attainable goal for all. Greeted by Anna Eure and Dr. Brenda Tinkham, Associate Provost for External Relations, the group visited McSweeney Hall, which hosts the university's Department of Business, and there they learned about university life, the freedoms, and the responsibilities that come with it. They were excited to tour the campus with student tour guides Ke'Shawn Taylor and Caleb Peterson and even learned about "Brown Lady," the campus' infamous "ghost." The group enjoyed seeing and eating in the dining hall, especially the access to all-you-can-eat pizza and ice cream. All of the young scholars received a Chowan t-shirt to take home to remember their experiences on campus.
Colerain Elementary School students.
Greensville County High School (VA) AVID Group visited Chowan under School Counselor Kelly Smith. The AVID Program (Advancement Via Individual Determination) seeks to help prepare students for college readiness, so they were immersed in the entire campus experience, beginning with a tour of campus by Admissions Counselors Blake Rutledge, Zoe Beale, Christy Horton, and Olivia Gaither. We talked about opportunities for students to spread their wings and really find themselves here at Chowan, what that looks like, and how they can get all they want out of the college experience. We talked about academics, athletics, campus ministry, and the opportunities to travel the world through Chowan. The students seemed to enjoy the tour, and several of them talked about what they saw during lunch. We invited them to join us for lunch in the cafe. There, they were able to see more Chowan student life as exams were underway and our students were busy studying and wrapping up their fall semester of classes. We did let the group know that some of our students have already made their way home for break and that the rest were finishing up and heading home this week.
Greensville County High School – AVID Group
To learn more about Chowan University or to schedule a visit, visit chowan.edu, or contact the Office of Admissions at admissions@chowan.edu or 252-398-6230.
About Chowan University
Chowan University, grounded in its Christian faith, has been transforming the lives of students of promise for over 174 years. A Christian liberal arts university founded in 1848, Chowan is located in the Historic Inner Banks community of Murfreesboro in northeastern North Carolina. The university is in close proximity to the Outer Banks and Hampton Roads, Virginia. Chowan's park-like campus features more than 400 acres, including Lake Vann, the beloved "Squirrel Park" and the original McDowell Columns Hall, erected in 1851 and listed on the National Register of Historic Places.
Accredited by the Southern Association of Colleges and Schools Commission on Colleges, Chowan offers over 70 undergraduate academic programs among the School of Arts and Sciences, the School of Education and Professional Studies, and the School of Business and Design. Master's degrees are awarded through the School of Graduate Studies. The Music Department is also individually accredited by NASM. An NCAA Division II member institution, Chowan offers 20 varsity sports, as well as co-ed competitive cheerleading and co-ed esports, and a junior varsity men's basketball team. Nineteen programs compete in Conference Carolinas and one in the CIAA.
For more information about Chowan University, visit www.chowan.edu or call 1-888-4-CHOWAN.
###