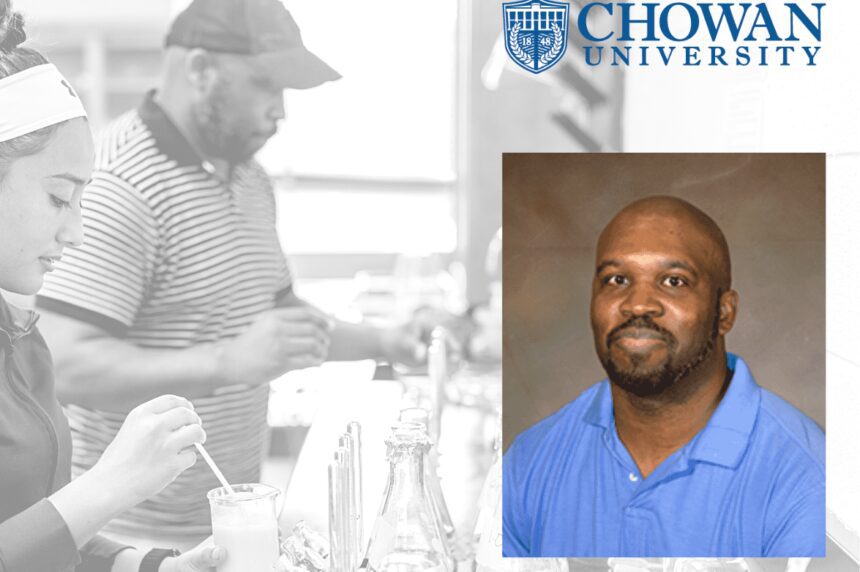 Dr. Torrence Gill Awarded Sloan Foundation Grant with Co-Principals 
Dec 13, 2022
by Kim Sherman Bailey
Assistant Professor of Biology Dr. Torrence Gill, a co-principle investigator along with professors from three other universities led by Pennsylvania State University (PSU), was recently awarded a Sloan Foundation Equitable Pathways to Graduate STEM Education Grant titled, "INterdisciplinary Studies in Science, Education, Communication and Technology NETwork (INSSECT NET).  
The purpose of the grant, as noted in the acceptance letter Dr. Gill received, is "to establish a new, entomologically-focused research network, strengthening partnerships between minority-serving institutions Central State University, Chowan University, and University of Maryland Eastern Shore, with PSU."
This year-long collaboration with PSU's Insect Biodiversity Center seeks to create a pipeline for undergraduates that are involved in the SROP (Summer Research Opportunity Program-which targets minority students) to encourage future enrollment in graduate programs at PSU. During the planning stages of the proposal, senior Chowan Biology major Jelani Alcorn was recruited and eventually participated in PSU's SROP this past summer.
This relationship extends to STEM majors, so there are opportunities in agricultural engineering, statistics, understanding and developing cutting-edge technology and equipment to make agriculture more efficient, and lastly, programs science focused on the vast, diverse areas of research in entomology. In the summer of 2023, Dr. Gill is looking to get three Chowan students into the SROP program at PSU.
Please join Chowan University in congratulating Dr. Gill and his co-principal investigators on this grant.
---
About the Alfred P. Sloan Foundation (Mission from sloan.org/about)
The Alfred P. Sloan Foundation makes grants primarily to support original research and education related to science, technology, engineering, mathematics, and economics. The Foundation believes that these fields—and the scholars and practitioners who work in them—are chief drivers of the nation's health and prosperity. The Foundation also believes that a reasoned, systematic understanding of the forces of nature and society, when applied inventively and wisely, can lead to a better world for all.
Sloan Foundation's Diversity, Equity & Inclusion in STEM Higher Education Program Goal (https://sloan.org/programs/higher-education/diversity-equity-inclusion)
To create diverse, equitable, and inclusive pathways to and through STEM graduate education and the professoriate.

About Chowan University
Chowan University, grounded in its Christian faith, has been transforming the lives of students of promise for over 174 years. A Christian liberal arts university founded in 1848, Chowan is located in the Historic Inner Banks community of Murfreesboro in northeastern North Carolina. The university is in close proximity to the Outer Banks and Hampton Roads, Virginia. Chowan's park-like campus features more than 400 acres, including Lake Vann, the beloved "Squirrel Park" and the original McDowell Columns Hall, erected in 1851 and listed on the National Register of Historic Places.
Accredited by the Southern Association of Colleges and Schools Commission on Colleges, Chowan offers over 70 undergraduate academic programs among the School of Arts and Sciences, the School of Education and Professional Studies, and the School of Business and Design. Master's degrees are awarded through the School of Graduate Studies. The Music Department is also individually accredited by NASM. An NCAA Division II member institution, Chowan offers 20 varsity sports, as well as co-ed competitive cheerleading and co-ed esports, and a junior varsity men's basketball team.