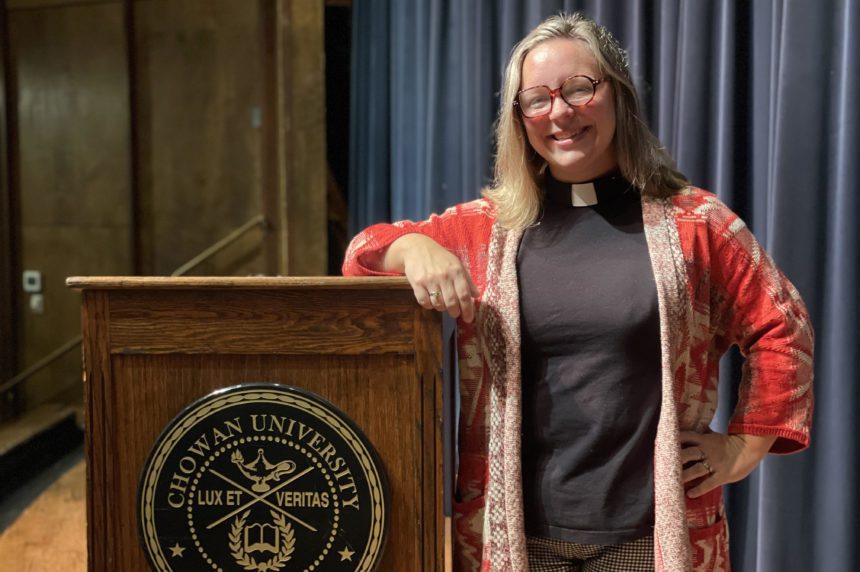 Chowan Chapel Service features Alumna Rev. Elizabeth Miller Villegas
Oct 28, 2022
by Lou Ann Gilliam
Rev. Elizabeth Miller Villegas, a 2012 psychology major, was the guest proclaimer at the Chowan University Chapel Service on Wednesday, October 26. She shares a unique relationship with Chowan in that she is the 5x great-granddaughter of Godwin Cotton Moore, Chowan's founding father.
While at Chowan, Villegas came to Christian faith and explored her calling in Campus Ministry activities and mission trips. Villegas continued her education at Campbell University School of Divinity, where she earned a Master of Divinity degree in 2017. Currently, Villegas is a United Methodist Minister serving six congregations in Gates County. She is a member of Chowan's Ministerial Board of Associates and also serves on the Alumni Council.
The focal text of Villegas' sermon was Luke 19:1-10, the story of Jesus and Zaccheus. Throughout her message, Villegas wove the question, "What is a life worth?" She vulnerably illustrated these questions with personal experiences, including the recent heartbreaking death of an infant cousin. Villegas shared that Jesus valued Zaccheus "going out on a limb," and his status as a chief tax collector did not prevent him from being a part of God's family. Villegas powerfully proclaimed to the listeners that they are like Zaccheus, "loved and worthy."
Thank you, Rev. Villegas, for serving your alma mater through your preaching. For more information on Chowan University Campus Ministry, you may contact Rev. Mari Wiles at wilesm@chowan.edu.