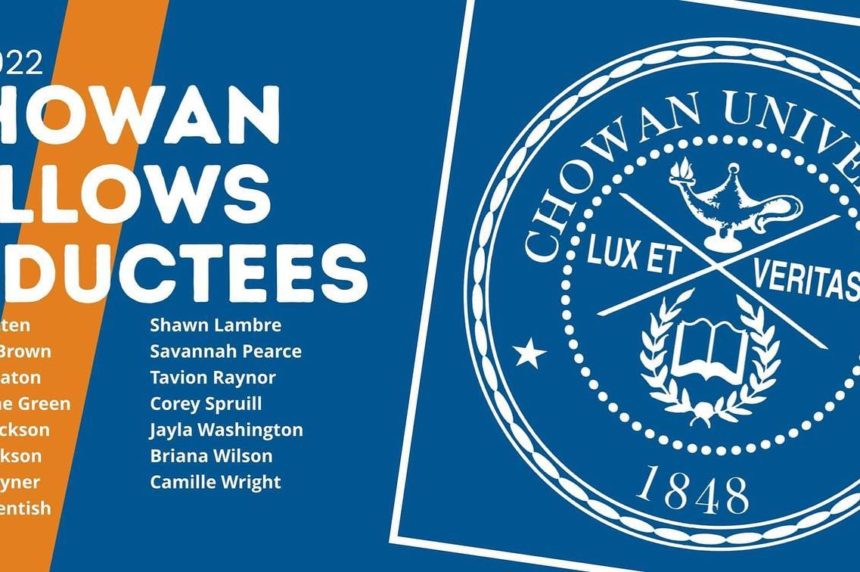 CHOWAN UNIVERSITY INDUCTS FIFTEEN INTO FELLOWS PROGRAM
Oct 31, 2022
by Harri Lovett
Chowan University is pleased to announce it has inducted fifteen students into the Chowan Fellows Program. The Chowan Fellows program strengthens students' leadership skills, prepares students for lives of service, and promotes students' professional preparations. The program fosters its mission by:
working with students who desire to lead in the development of creative, courageous, and compassionate ideas;
helping students recognize that successful leaders are driven by a desire to be of service to others;
assisting students to discover and embrace cultural similarities and differences in ways that promote meaningful and life-longing learning;
teaching students that discipline, tenacity, and resilience are foundations personal development is achieved;
engaging students in experiences that develop competence, character, and confidence;
mentoring students by University faculty and staff members;
helping students understand themselves and the responsibility that comes with that understanding;
assisting students to gain the capacity to generate a sense of belonging in others, making them feel valued for their contributions;
assisting students in applying for graduation and professional schools, professional internships, and career positions; and
allowing students to reflect on their individual strengths and preferences.
The Fall 2022 inductees are:
Laila Britten, Dry Fork, VA
Victoria Brown, Cary, NC
Ta'Niya Eaton, Henderson, NC
Jacqueline Green, Roanoke Rapids, NC
Sariah Jackson, Baltimore, MD
Syrai' Jackson, New London, NC
Genesis Joyner, Jersey City, NJ
Selene Kentish, Pembroke Pines, FL
Shawn Lambre, Bronx, NY
Savannah Pearce, Courtland, VA
Tavion Raynor, Clayton, NC
Corey Spruill, Richmond, VA
Jayla Washington, Havelock, NC
Briana Wilson, Kill Devil Hills, NC
Camille Wright, Franklin, VA
Fellows will enjoy many special benefits by being enrolled in the program. Some of these benefits are:
Gain skills and confidence to achieve a competitive edge with employers
Enhanced academic advising
Acquire skills to transform self and society
Focus on self-awareness and culture
Learn to understand the viewpoint and needs of others
Learn to articulate your value when preparing for interviews
Enhance problem-solving and critical thinking skills
Close-knit community of engaged students and faculty
Civic engagement team projects
Leadership development
Focus on widening perspective and spanning boundaries
Participation in the Chowan University Student Research Conference
Focus on making a difference
Development of new and diverse friendships, a sense of accomplishment, and a wider perspective on issues and life itself
Induction into the program to include a pinning ceremony
Early registration for courses
Invitations to special lectures and cultural events
Fellows designation on transcripts and diploma
Recognition at commencement to include graduation cord
Recognition at awards ceremonies
Membership in the Chowan Fellows Association
Chowan University would like to congratulate the 2022 Fall inductees and wishes the students well in their academic endeavors.