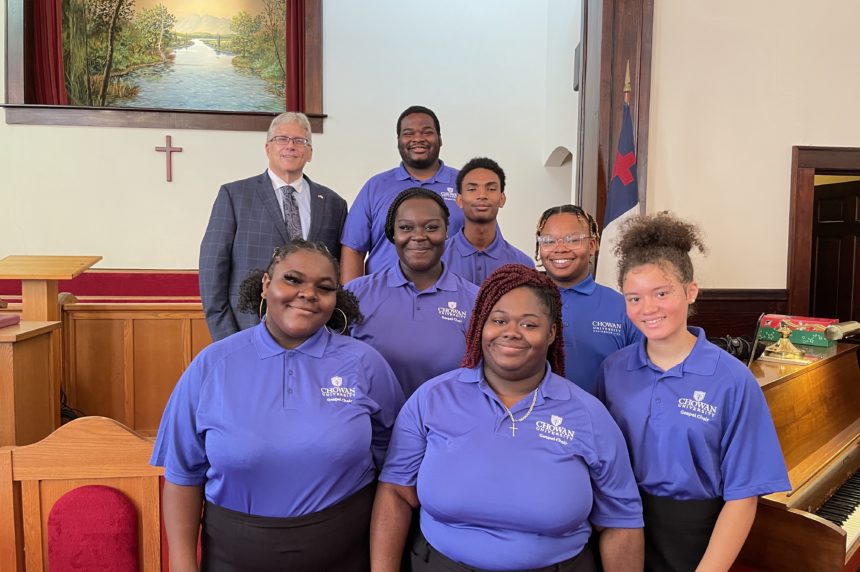 Chowan Featured at Harrellsville Baptist Church's Homecoming Service
Oct 20, 2022
by Staff Reports
On Sunday, October 16, Chowan University joined Harrellsville Baptist Church for their Homecoming Celebration. Director of Church and Community Relations, Lou Ann Gilliam brought greetings on behalf of the Chowan Christian Service Association (CCSA) and the University Gospel Choir led a portion of the worship service.
The worship service featured a special homecoming message by the pastor, Dr. Jeff Crabtree. Music Director and Chowan alumna, Donna Lowers led the congregation in favorite hymns and the choir in "What a Glad Reunion Day" and "Dwelling in Beulah Land." Other highlights included the dedication of a donated light in memory of Richard Liverman and recognition of Mary Lou Sullivan for her faithful service for playing the piano at the church for over 42 years.
"It was an honor for Chowan to be included in Harrellsville Baptist's Homecoming service. We are so grateful for how Harrellsville Baptist values their local Baptist university. This church really cares for our students," shared Gilliam. "I especially appreciate the church for faithfully giving to their CCSA scholarship. Their current recipient, Deondre Brown'25, has a calling for coaching and ministry. Without the CCSA scholarship, Deondre may not have been able to come to Chowan."
After the Homecoming message, the Gospel Choir led the service. Minister of Engagement, Calvin Carter directed the choir in a variety of worship songs including "Holy Spirit" by Jesus Culture and "All Things Well" by Myron Butler. At the conclusion of the worship service, all the members and guests enjoyed a delicious covered dish lunch. The home-cooking was a wonderful treat for the students.
Vice-chair of the deacons, Annette Thompson shared, "we enjoyed having this special group worship with us. It was such an uplifting experience." The sentiment was reciprocated by the choir, Carter expressed, "I could not have asked for a better way to introduce the Chowan Gospel Choir to the community. One of the students said, 'I miss this. It feels like when I was in church when I was younger…Home'. The students were welcomed with love and were invited to celebrate with the church as family. Thank you Harrellsville Baptist Church. You all are a testament to Chowan's rally cry, All Together, We Worship!'
For more information about the Chowan Christian Service Association, please contact Lou Ann Gilliam at 252-398-6317 or at gillil@chowan.edu. For more information about the Chowan University Gospel Choir, contact Calvin Carter at 252-398-6255 or clcarter@chowan.edu.