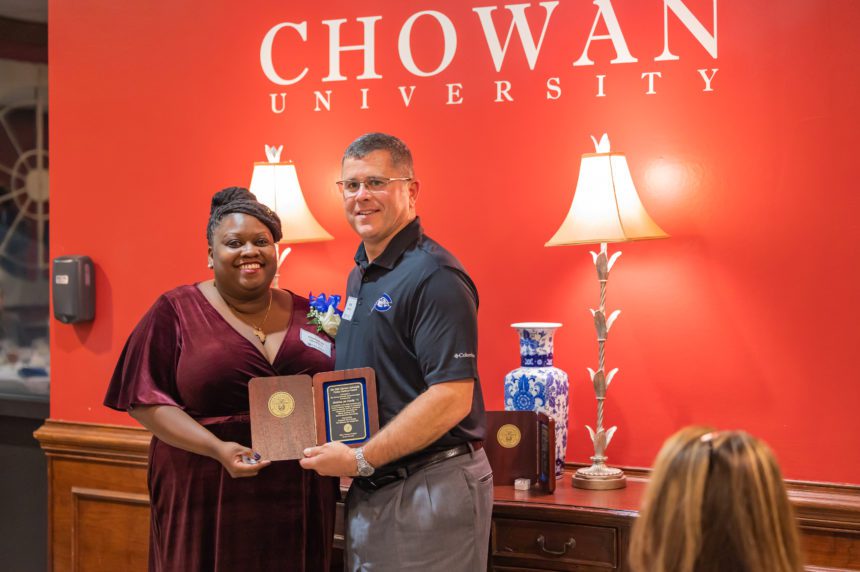 Chowan Announces The 2022 Distinguished Alumni and Community Service Award Recipients
Oct 18, 2022
by Kim Sherman Bailey
On Friday, October 14th, the 2022 Community Service Award and Distinguished Alumni recipients were recognized at a dinner event. Walter Gardner '74 and Barbara Leonard Dickinson '76 received Distinguished Alumni Award, Christina Joe Charity '11 received the Young Alumnus Award, and Jamie Johnson received the Community Service Award.
Gathering at a reception in the Wayland L. Jenkins Jr. Fine Art Center, the award recipients and their families enjoyed mingling and celebrating with their families and guests. The attendees then assembled in the Chowan Room for a dinner and award presentation. Each recipient selected someone to honor them at the event by sharing a little of their story; then, they were presented with a book plaque and a lapel pin from President Kirk Peterson.
Walter Gardner, a 1975 graduate of then Chowan College, is a current resident of Warrenton, NC. While at Chowan, he was a Resident Assistant in Parker Hall and sang in the Chowan Choir and James Chamblee's Carolers; plus, he drove the bus for Bob Brown's Stage Band. Walter served on the Chowan Alumni Association Board of Directors from 1982 to 1986, serving as its President from 1985 to 86. A former Trustee of Chowan University, he is currently serving his fifth term on the Board of Visitors.
Gardner continued his education at UNC-Greensboro, returning to Warrenton in 1977 to enter business with his dad at Warrenton Insurance Agency, Inc. where he currently serves as owner and president. He has served 49 years with the Warrenton Rural Volunteer Fire Department and for the past 20 years, as the Fire Chief. He is serving in his 25th year as mayor of Warrenton. During his tenure, Warrenton has been awarded for its revitalization efforts downtown and the renovation of its historic town hall. He was named one of Five Outstanding Young North Carolinians in 1986; and during his 20-year involvement in North Carolina, Jaycees, he has been awarded a JCI Lifetime Senatorship. He and his wife, Mishew, have two children, Kelly and Brian, and four grandchildren; Mishew has a step-daughter Robin, and a grandson. Walter and Mishew enjoy traveling and spending time on Lake Gaston and will soon celebrate their 25th wedding anniversary.

Barbara "BJ" Leonard Dickinson, a 1976 Chowan graduate, resides in Henrico, VA.  After graduating from Chowan, she went to work with First & Merchants National Bank in Richmond, VA, now part of Bank of America, and in 2007 retired after thirty years working in many areas of the Bank, including investments, private banking, and trust. She went straight to work as vice president in the Trust Department for thirteen years with what is now Atlantic Union Bank and retired in 2019. After retiring from the corporate world, she has an LLC, In Home Assistance for Seniors. She uses her financial services and trust background to help individuals stay as independent as possible, assisting in everyday activities as a good daughter would. She has held board positions, including Meals On Wheels, FeedMore, Hanover Juvenile Community Service, and the Kiwanis Club of Richmond. She has been president of the Kiwanis Club of Richmond and recently served as the Lieutenant Governor of the Capital District of Kiwanis. 
Dickenson has been married for almost forty-five years to her husband, Bill. They have two sons and three grandchildren. In their spare time, Barbara and Bill enjoy traveling internationally. She holds her associate's degree from Chowan College, and one of her lifetime goals is to obtain a bachelor's degree before she turns eighty. Dickinson is currently a sophomore at Calvary Chapel University, a 100% online Christian University, majoring in Biblical Studies with a focus on Christian Education. 
Christina Joe Charity, a resident of Portsmouth, VA, earned her Bachelor of Science Degree in Biology at Chowan in 2011. During her time at Chowan, Christina served on the SGA's Executive Council as Senior Class President. She held other leadership roles such as Resident Assistant, Freshman Seminar/Critical Thinking Peer Mentor and President of the Instruments of Praise (IOP) gospel choir. Moreover, she served the campus as a member of Upsilon Iota's Chapter of Delta Sigma Theta Sorority Inc., as well as in Campus Ministry. She volunteered across the country and abroad in Chowan's Inaugural International Mission Team to Mabopane, South Africa. A year later, she served in Haiti to help the community still impacted by major earthquakes.
Because of her commitment to her academics, missions, and service, she was recognized by a host of honor societies and received The Order of the Silver Feather, Best All Around Student, Vera Parker Womble Christian Service Award and represented the school as Miss Chowan University 2011 during her senior year. After graduating, Christina continued to serve Chowan's local community in the Ahoskie Alumni Chapter of Delta Sigma Theta Sorority Inc. She also served Hertford County as a member of the Habitat for Humanity Board, partnered with a local church to serve at-risk youth at the Methodist Home for Children, and worked at Roanoke-Chowan Community College as an Adjunct Assistant Anatomy lab instructor and Hertford County Unemployment Office instructor.
Since graduating from Chowan, Christina has maintained a relationship with the university by serving in roles such as Chowan's NAACP Advisor, a First Flight Speaker and continuing to serve in Campus Ministry by establishing a partnership with Chowan's IOP to Washington, D.C.'s Christ House, and chaperoning current Chowan students to serve in Hawaii. Christina married her Chowan sweetheart, Kendall Charity. They are blessed to have two daughters, Ava and Zoe. She currently works at SECEP Public School Consortium, teaching secondary sciences to students with special educational needs.
James "Jamie" Tillery Johnson Jr. of Ahoskie, NC, was presented with the Community Service Award. In October of 1978, James "Jamie" Tillery Johnson Jr. and his late father, James "Jim" Tillery Johnson, opened Ace Hardware of Ahoskie with the goal of providing the community with a one-stop shop for all of their hardware and home needs, while providing exceptional service to every customer, every time. After forty-four years of business and the opening of an additional Ace Hardware in Murfreesboro, Jamie and his father's original shared goal and vision for the store(s) still remain the same. Jamie's motto of "every customer, every time" has become a way of life at both of his Ace Hardware locations and has earned his stores numerous honors from Ace Hardware Corporation. These honors, which only a select number of Ace Hardware stores in the world have received, include being named Visionary Retailer five times, Platinum Retailer seven times, Pinnacle Retailer twice, 2013 Coolest Hardware Store On The Planet, and earning the coveted President's Cup.
Jamie has continued to follow in his parents' footsteps of exceptional service to his community over the years by serving on numerous boards and committees, some of which have included the Ahoskie and Murfreesboro Chambers of Commerce, Rotary Club, Hertford County Community 100, Boy Scouts of America, St. Thomas Episcopal Church Vestry, Ace Hardware Consumer Marketing Retailer Advisory Committee, Ridgecroft School Board of Trustees, and the Virginia Episcopal School Board of Trustee.
Jamie embodies the essence of community spirit and service. He is a significant part of the fabric of this region, county, town, and, most importantly, Chowan University. Jamie sees the "big picture" clearly and knows that the whole is greater than the individual parts. His devotion to the town of Ahoskie and Murfreesboro is evident in his work with the chambers. Johnson's commitment to Chowan is evident through his service on the Board of Trustees serving as Chair of the Development Committee and as a member of the Executive Committee. Jamie's service is unparalleled, committing not only his time and talents but treasure as well for the benefit of this community. Jamie and his wife Becky have three children, Tillery, Loftin, and Steed.
Please join Chowan University in congratulating this year's recipients.