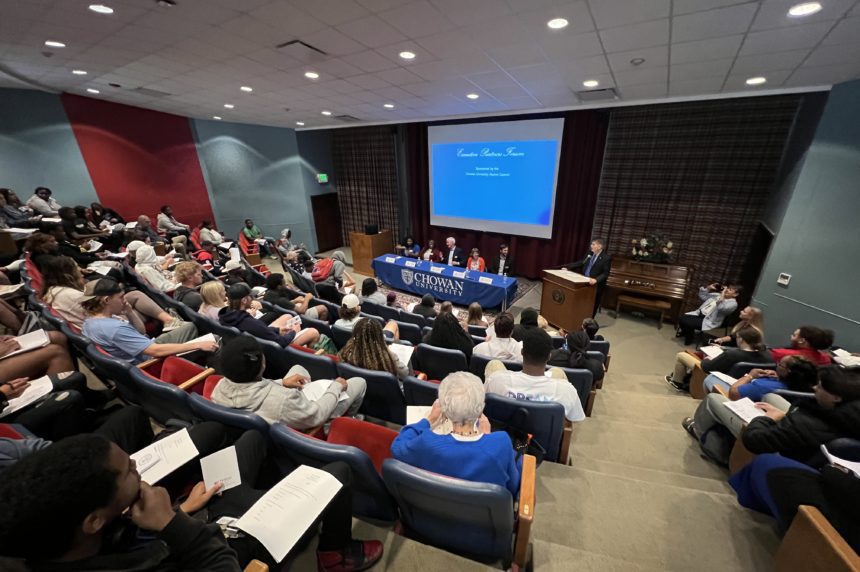 Inaugural Alumni Executive Partners Forum 
Oct 17, 2022
by Staff Reports
On Friday, October  14, the Office of Alumni Relations hosted the first Executive Partners Forum, established by the Alumni Council. This year's panelists were: Dr. Harold Babb, '70, Zack Cooper, '17, Debra Maingi, '12, Angela Felton Salerno, '88, and Antenette Stokes, '11.
The forum brought a near-capacity crowd to Vaughan Auditorium. Dr. Pamela Woodard, Chair of the Department of Criminal Justice, Associate Professor of Criminal Justice, and Alumni Council member, moderated the forum. Focusing on a series of questions developed by the Alumni Council and Office of Alumni Relations, the panelist shared their backgrounds, how they felt Chowan prepared them for their careers, and shared tips with current students. Students were able to ask questions of the panelists and engaged with them one-on-one after the event.
Dr. Harold W. Babb is currently a Professor of Marketing at the Robins School of Business at the University of Richmond. He is a 1970 graduate of Chowan University with an A.S. in Accounting. He continued his education, receiving a B.S. in Accounting from the University of Richmond, an M.S. in Marketing and Finance from Virginia Commonwealth University, and a Ph.D. in Marketing from Virginia Polytechnic Institute and State University (VPI). Dr. Babb has taught both undergraduate and graduate courses during his career at Richmond while serving as Department Chair for 18 years. He was a Fulbright-Hayes Scholar to South Korea and the Republic of China, the recipient of the F. Carlyle Tiller Distinguished Professor of Business Chair, received the University Distinguished Teaching Award, and was recently inducted into the University of Richmond Athletic Hall of Fame.
In addition to his academic career, Dr. Babb is an entrepreneur, having founded businesses in the health care, investment banking, student financial services, and renewable energy industries. Dr. Babb currently
serves on the National Executive Board for Lead Like Jesus, is Chairman of the Board for the Central Virginia Salvation Army, and is an Elder in his local church, in addition to other civic and professional work. Dr. Babb is married to June Slater Babb. They are the proud parents of two children and three grandchildren. His interests include family, international travel, sports of all kinds, and building businesses.
Zack Cooper is a 2017 graduate of Chowan with a Degree in Criminal Justice with a Minor in History. While at Chowan, Zack also played for the baseball team, earning All-CIAA honors in 2016 and D2CCA Third Team All-American honors in 2017. After Chowan, Zack attended law school at the Robert Khayat
School of Law at the University of Mississippi. He graduated with his Juris Doctor in the fall of 2019. Upon passing the North Carolina Bar Exam in 2020, Zack opened his own estate planning and probate law practice: Zachary A. Cooper Law. As an attorney, it is Zack's goal to help young families secure their family future through estate planning by making it easy and affordable to them now while also saving their loved ones time and money in the future.
Debra Maingi, a native of Kenya, East Africa, earned her Bachelor of Arts degree in English from Chowan University in 2012. During her time at Chowan, Maingi was a Leadership Scholar, a CCSA Scholar, and served in multiple positions within the International Students Club, where she spearheaded events such as the Multicultural Show under the leadership of Jill Awuni. In 2014 she was added to the Gallery of Distinguished Alumni, and in 2018 she was the recipient of the Young Alumni Distinguished Award, an honor given to young alumni who are excelling in their career fields and in their community. She has served as a member of the Alumni Council since 2013 and is this year's chair for the Young Alumni Gala, which she has planned alongside Kay Thomas.
Following graduation from Chowan University, Maingi has forged a successful career in the finance industry, where she has worked for banking giant Wells Fargo. Maingi has been promoted six times in the last nine years within Wells Fargo and her work ethic and dedication to excellence have been contributing factors to her success. She has received multiple awards for Customer Experience & Leadership Excellence, landing her among the top three branches in customer experience in her district as a Branch Manager in 2019 & 2020. Recently, Maingi was promoted to her role as a Business Consultant, where she leads audit efforts, policy & procedure management, line of business consulting & risk mitigation for the auto department in Raleigh, NC. In May of 2021, Maingi received her master's in Business Administration from Liberty University. Receiving her master's was the stepping stone to accomplishing her lifelong dream of starting her own small business. In January 2022, Maingi launched her wedding and event planning business, Unveiled by Debra, in Raleigh, NC where she plans high-end weddings and events for clients in NC, VA, & SC.
Angie Salerno attended Chowan College from 1985-1988. While at Chowan, she was an active member of the Baptist Student Union and president her sophomore year. She was also a member of the Orientation crew. Angie and her roommate, Sheila Roop, were the first students accepted into the Third Year Commercial Art program. This means that after graduating from Chowan in 1987 with an associate degree in Commercial Art, she returned for the third-year program and graduated again in 1988 with additional certification. Angie attended Christopher Newport College from 1990-1992 and earned her Bachelor of Fine Arts degree. She stayed an extra year after graduation to earn her teaching certification. Her cooperating teacher introduced her to the Virginia Art Education Association as a student teacher, and later long-term subbed for her cooperating teacher. She was hired in 1994 by Suffolk Public Schools to be the elementary art teacher at Kilby Shores Elementary School. She was selected as Kilby Shores Elementary's Rookie Teacher of the Year in 1994. In 2004, Angie was chosen to be Kilby Shores Elementary School's Teacher of the Year.
Angie has been an active member of the Virginia Art Education Association since student teaching and attended almost every VAEA conference since. She has presented several times at the VAEA conference
and at the Tidewater chapter's Winter Workshops. Angie was selected as the 2021 Virginia Elementary Art Educator of the Year and was elected to the VAEA State Secretary. She married her high school
sweetheart in 1991. Angie has a daughter who is in her second year of teaching Chemistry for Chesterfield Public Schools and a son who is a senior at Emory & Henry College majoring in Exercise Science and minoring in Spanish. Angie has been a Girl Scout leader for the past 20 years and is active at her church playing handbells.
Antenette D. Stokes is a Licensed Professional Counselor, National Certified Counselor, and Qualified Mental Health Professional through the state of Virginia. Antenette graduated from Chowan University, majoring in Psychology and minoring in small business. After completing her undergraduate degree, Antenette began working at the Middle Peninsula – Northern Neck Community Services Board (MP-NN CSB) and held various positions such as Behavioral Specialist, Crisis Stabilization Responder, and Same Day Access Assessor. While working, Antenette completed her master's degree in Professional Counseling from Liberty University.
Currently, Antenette owns her own private therapy practice, Stokes Clinical Counseling Center, LLC – where she specializes in supporting Virginia's high-profile clientele and community members through their trauma, adverse childhood experiences, anxiety, depression, lack of boundaries, and relationship issues. Antenette also works at Collegiate School (Richmond, VA) as an Upper School Counselor and Therapist. Antenette holds other roles, such as Board of Director and Vice-Chair of the MP-NN CSB and Board of Visitor at Chowan University. She finds solace in giving back to the community through Alpha Kappa Alpha Sorority, Inc. and learning and communicating with deaf and hard-of-hearing community members in American Sign Language (ASL).
"Chowan University's newest initiative goes beyond the classroom to support the students' transition into the real world," shared Kay Thomas, Alumni Director.  "The Executive Partners initiative brings career advice, networking opportunities, and real-life experiences to our campus. Active or retired, these alumni leaders have been there and done what many of our students plan to do. Our Executive Partners speak from deep experience."