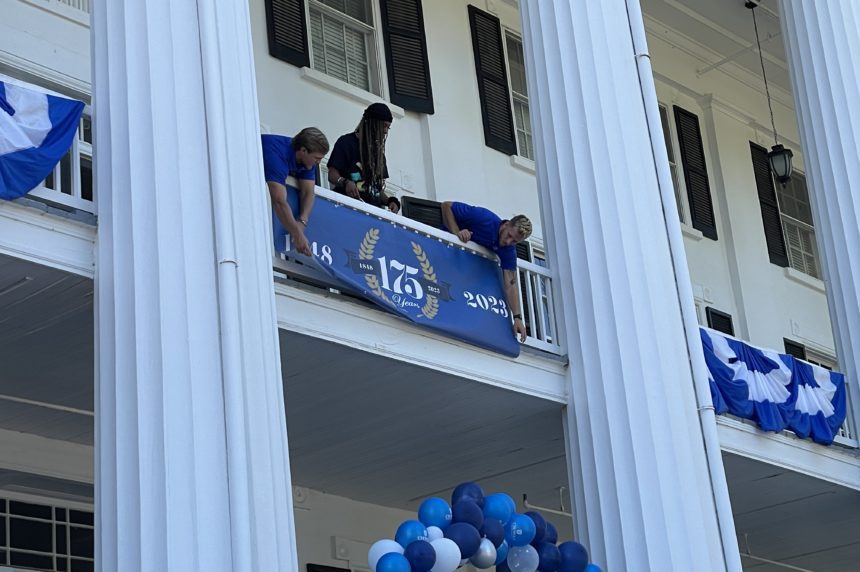 Chowan University Celebrates 174th Year
Oct 13, 2022
by Kim Sherman Bailey
On Tuesday, October 11, Chowan University celebrated its 174th anniversary. A "birthday celebration" organized by the Office of Alumni Relations took place at the historic McDowell Columns Building.
University officials, employees, students, friends, and supporters gathered to celebrate Founder's Day and what was the start of the 175th-year celebration. President Kirk E. Peterson brought greetings noting Chowan's "founding fathers, Dr. Godwin Cotton Moore and Dr. Archibald McDowell, and others who believed in a well-rounded education for young ladies," which has lived on for 174 years, transforming the lives of students in our region and across the globe. Dr. Peterson shared that "today we also celebrate our leadership over the years, the Trustees, the Board of Visitors, the Ministerial Board, and the alumni – these fine people held the institution together through wars, pandemics, and financial hardships." Most importantly, Chowan is a student-centered institution; therefore a fun, "birthday celebration" was created including cupcakes, a birthday song, and complete with a dozen birthday gifts of Chowan gear given to lucky drawing winners.
To mark the start of the celebration, Student Government Association President Kashara Simpson, Presidential Ambassador Patrick Krack, and University Relations Intern Harri Lovett unveiled the 175th-anniversary banner that now hangs from the McDowell Columns Building. The Chowan University Singers, led by Dr. Benjamin Thorburn, led the crowd in singing "happy birthday," and the University's Alma Mater. The Chowan cheerleaders, the Sapphires, led the crowd in a cheer. Rev. Mari Wiles offered a blessing of the University.
Also present to commemorate the occasion was Betty Jo Shepheard from the regional office of North Carolina Senator Richard Burr. On behalf of the Senator, Ms. Shepheard presented Chowan University with a United States Flag that the Senator requested be flown over the United States Capitol in honor of Chowan University beginning its 175th-anniversary celebration. Via Ms. Shepheard, Senator Burr shared, "what a wonderful school we have nestled in Northeastern North Carolina," later stating that "the founding and establishment of this great institution began generations ago, and all of you are continuing the legacy."
As the university begins to commemorate 175 years in higher education, a committee was established by President Kirk Peterson, which is chaired by Alumni Director Kay Thomas, and its members represent various segments of the university. The University will begin incorporating and celebrating the 175th milestone beginning with events in January 2023, with significant events planned on and near Founder's Day 2023 (October 11, 2023).
For more information about Chowan University, visit chowan.edu. For University events, visit chowan.edu/events.
See the full album recap on Facebook.