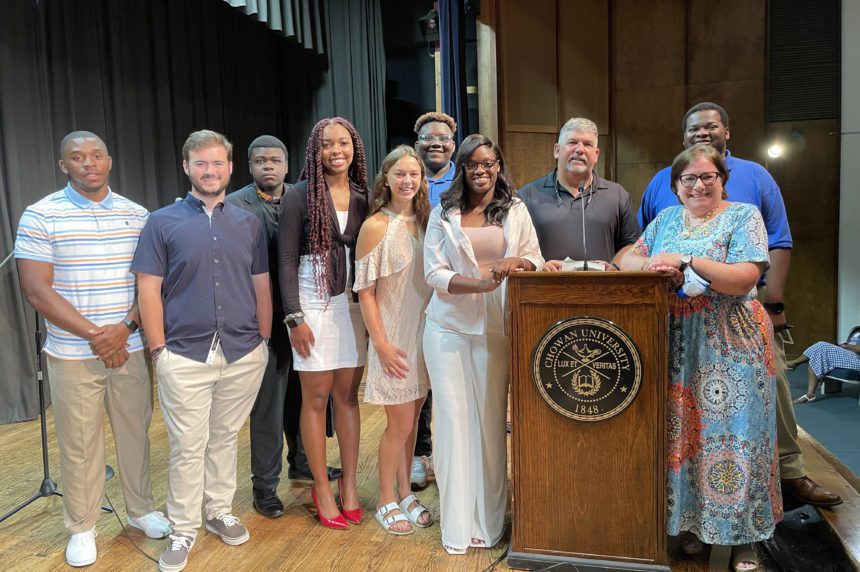 Chowan University Faithfully Begins New Academic Year
Aug 22, 2022
by Staff Reports
On Sunday, August 21 Chowan University Campus Ministry began the new academic year with a faithful start by hosting "Opening Worship." University President Dr. Kirk Peterson welcomed all to the service and led a prayer of encouragement. Minister of Engagement Calvin Carter and members of the campus ministry praise team led students, faculty, and staff in several praise choruses.
New head Softball Coach Junior Bailey shared his Christian faith journey. He shared how he became a Christian at eight years old and then in college "made his faith his own." Bailey encouraged students with scripture verses John 15:4-5 and invited them to hear Jesus' call to "to remain in me."
Following Coach Bailey's testimony, the Student Ministry Chaplains offered prayers for the new year. Patrick Krack began the time praying for the entire campus. Kashara Simpson said a prayer for athletes, coaches, as well as rival teams. Shania Black prayed for anxieties and fears. Erica Mock prayed that students would find friendships and develop healthy relationships. Brayden Conboy concluded the prayer time praying for the Chowan Community's spiritual health.
After the prayers and another praise song, Minister to the University Rev. Mari Wiles delivered the sermon. She began sharing a valuable lesson learned as a child while playing the arcade game "whack-a-mole;" it is difficult to win because the game is "rigged." It served as an example that life isn't always fair. She also shared that evil is present in the world and grieved over the deaths of children to gun violence. To counter unfairness and evil, Rev. Wiles encouraged the worshippers to look to the scripture in Ephesians 6:10-18 to "be strong in the Lord," and to "put on the full armor of God." She described each of the pieces of armor from the belt of truth to the sword of the Spirit and how students could embrace God's righteousness.
At the conclusion of the sermon, student chaplain to the football team, Jaylon Boyd, gave the benediction. From the beginning to the last amen, the service encouraged students in their new school year journey. 
For more information about Chowan Campus Ministry contact Rev. Mari Wiles at wilesm@chowan.edu.
Photo caption:  Students and staff led the service with praise choruses, prayers, testimony, and preaching.  Featured from left: Jaylon Boyd, Braydon Conboy, Jordan Jefferson, Student Body President Kashara Simpson, Erica Mock, Malachi Cobb, Shania Black, Head Softball Coach Junior Bailey, Minister of Engagement Calvin Carter, and Minister to the University Rev. Mari E. Wiles.