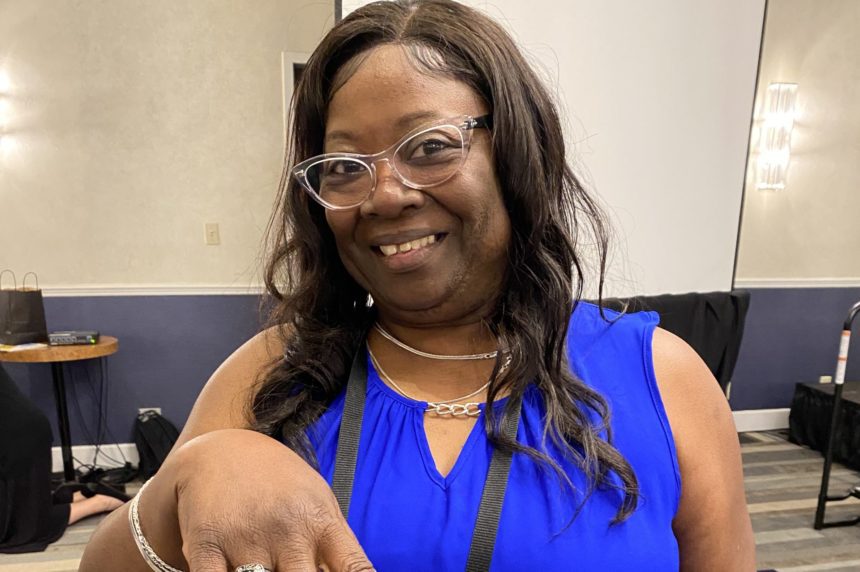 Geraldine Branch Recognized at Pioneer College Caterers National Conference
Jul 14, 2022
by Kim Sherman Bailey
Geraldine Branch, Assistant Director of Food Services at Chowan University for Pioneer College Caterers (PCC), was recognized at the PCC National Conference in Nashville, Tennessee, earlier this summer. Recognition at the national conference came for her 30 years of continuous service with Pioneer College Caterers. In her honor, a photo presentation was shared in front of conference attendees. She was recognized on stage, where she was inducted into PCC's President's Circle and presented with a customized President's Circle ring.
Present to celebrate with Geraldine were Chowan's PCC Food Service Director, Jon Kennedy, and Pioneer Catering District Manager, Sami El-Maasarani, who previously served at Chowan. Kennedy shared that "Geraldine's contribution to the dining services at Chowan University is immeasurable. For over 30 years, her servant spirit and work ethic have made her a valuable member of the Pioneer College Caterers team. I would like to congratulate Geraldine on being recognized for her commitment to the Chowan community."
While Geraldine has been with PCC for 30 years, her service at Chowan has been over 40 years, as she was part of the Chowan dining family before the university partnered with PCC for all its on-campus food service and catering needs. When asked about this achievement, she credited her faith and cited "Philippians 4:13, I can do all things through Christ which strengthens me."
Please join Chowan University in celebrating Geraldine and thanking her for her dedicated service to the university and its students.