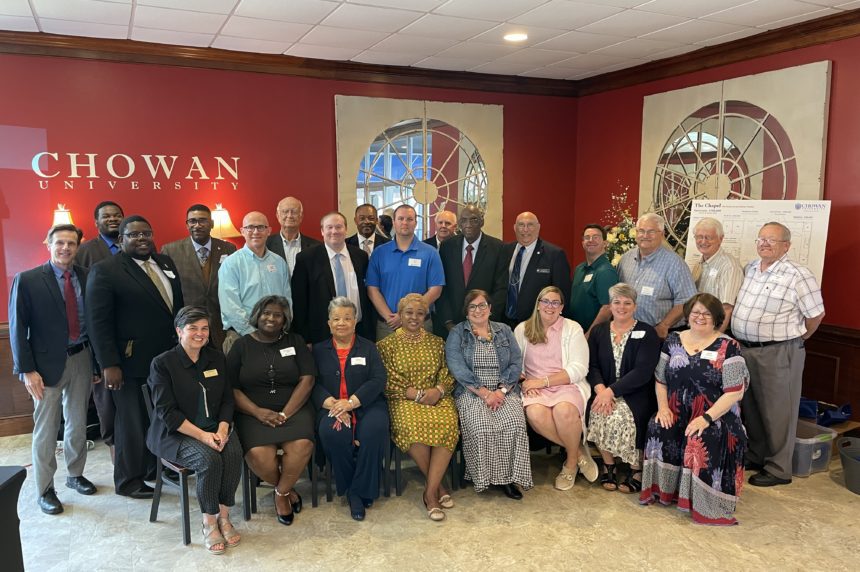 Chowan University hosts Ministerial Board Meeting welcoming new members and presenter, Rev. Kelly Rhodes Adams
Jun 8, 2022
by Staff Reports
Last month, the Chowan University Ministerial Board of Associates (MBA) gathered to reconnect with the University and each other. The MBA was pleased to welcome new and returning members and hear from guest presenter, Rev. Kelly Rhodes Adams.
This was the first in-person meeting of the MBA since 2019 due to the Covid-19 pandemic. "It was nice to be back on campus and to have in-person fellowship," shared Rev. David Brooks, MBA chair and pastor of Edenton Baptist. Brooks welcomed the Board's newest members, which include the following ministers: Rev. Sam Askew, Windsor Congregational Christian, Windsor, VA; Rev. David J Blackman, District Superintendent for the Beacon District of the United Methodist Church; Rev. Dorian Daniels, New Ahoskie Baptist Church, Ahoskie, NC; Rev. Stanley Hare, Capeharts Baptist Church, Merry Hill, NC; Rev. David Little, Littleton Baptist Church, Littleton, NC; Rev. Tracey Pugh, Sycamore Baptist Church, Franklin, VA; Rev. Joshua Prosser, Earlys Baptist Church Ahoskie.
Among those who joined the board are Chowan alumni, Rev. Steve Ruffin '20 Cherry Hill Missionary Baptist, Tarboro, NC, and Rev. Elizabeth Villegas '12, Gates County Charge for United Methodist, Gates, NC. Returning to the Board after previous years of service are Rev. Mike Currin, interim pastor at Roberts Chapel Baptist Church, Pendleton, NC, and Rev. Kelly Rhodes Adams of Franklin, VA.
The first part of the meeting included reports from the University. Andy Wilson, Vice President for Advancement, shared the progress of the new Chapel and other university news. Rev. Mari E. Wiles gave a Campus Ministry update and introduced Calvin Carter '15 as the Minister of Engagement. Dr. Jill Awuni, Assistant Professor of Religion and Business Administration and Director of International Students shared how churches have been supporting international students throughout the pandemic. The University reports concluded with the Director of the Religion program, Dr. Paul Gilliam giving an update on the Religion program.
Along with University updates, each Ministerial Board meeting offers members an educational opportunity to support ministers in their work. For this session, the MBA welcomed Rev. Kelly Rhodes Adams. Adams holds a B.S. in Accounting from Meredith College and a Master of Divinity degree in Christian Education from Campbell University Divinity School. She first served on Chowan's Ministerial Board of Associates when she was the associate pastor at Edenton Baptist Church in Edenton (2009-2015). In 2016 Adams moved to Alabama and held positions in the Mann Center for Ethics and Leadership and the Center for Congregational Resources at Samford University. She worked for three years as the project coordinator for Life is Calling, a Lilly Endowment funded initiative that resources congregations as they explore the intersection of calling with a life of meaning and purpose. Adams has returned to the area and resides in Franklin, VA where her husband Trey serves as Head of School at Southampton Academy. Adams has continued working with the Lilly Endowment and Cooperative Baptist Fellowship creating resources and facilitating conversations, as well as preaching at area churches.
With her expertise, Rev. Adams led a timely discussion, "Context and Congregations." Adams shared about her work with "Life is Calling." She relayed her observations with those churches and invited the Ministerial Board members to consider their churches and the resources in their congregations. She encouraged members to take the questions she presented back to their congregations, inviting them to consider the opportunities in their context.
"Rev. Adams was the right person for our first time back after our pause during the pandemic," shared Director of Church & Community Relations, Lou Ann Gilliam. Gilliam continued, "the discussion was so helpful among this ecumenical group, it was a pleasure to witness the ministers as they support and learn from one another."
For more information about the Chowan Ministerial Board or Church and Community Relations, please contact Lou Ann Gilliam at gillil@chowan.edu.