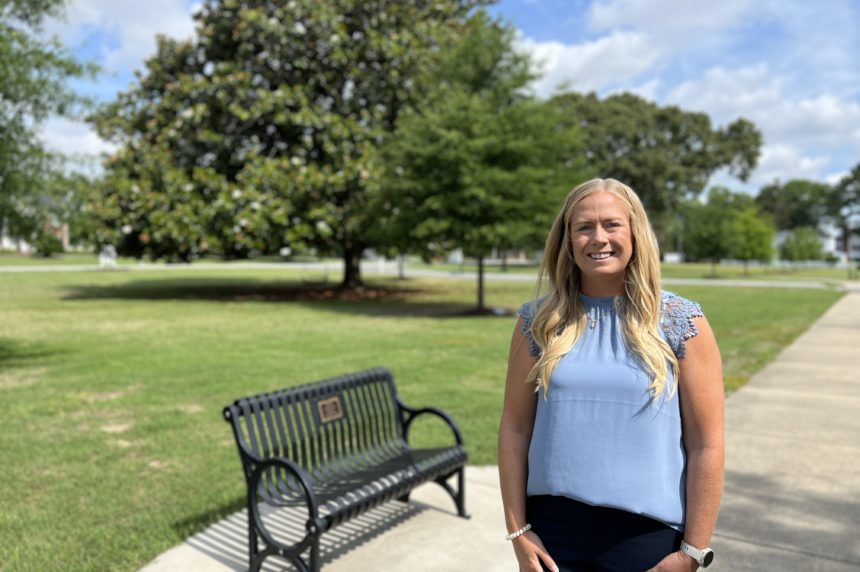 Chowan University Charts New Flight Path with Director of Annual Giving and Brave Hawks Club
Jun 3, 2022
by Kim Sherman Bailey
Ashley Gustafson is charting a new flight path at Chowan University as the new Director of Annual Giving and Brave Hawks Club. This new position reports to both the Department of Athletics and the Office of Advancement. This leadership role will manage the day-to-day operations connected to the annual giving program in Advancement and the Brave Hawks Club details with membership within the club for athletics. The annual giving program solicits gifts of $10,000 and less for programs throughout the University. She will also lead the University's Day of Giving which takes place annually in spring. 
Patrick Mashuda, Vice President for Athletics and Athletic Director expressed, "we are excited to have Ashley working with Athletics and Advancement in continuing to build on the great foundation that has already been established with the Brave Hawks Club, and to be the bridge in fundraising between the two areas of the university."
Ashley is no stranger to Chowan as she has served three seasons as Head Softball Coach and, from 2014 to 2017, was an assistant softball coach for the Hawks. Ashley taught middle school at Conway Middle School in nearby Conway, NC, between coaching stints at Chowan. During her time at Conway Middle, she was the head softball coach, assistant volleyball coach, math department chair, and a part of the Staff Leadership and PBIS Culture teams.
Vice President for Advancement Andy Wilson shared, "I am thrilled to have Ashley Gustafson join the advancement team. Her background in fundraising and athletic club implementation was a plus in selecting Mrs. Gustafson for this role." 
Ashley received her BS in Mathematics with a concentration in Secondary Education from Morehead State in 2010 and her MBA from UT Martin in 2014. She is married to Eric Gustafson, Director of Sports Medicine at Chowan.
Please join Chowan University in congratulating Ashley on this new role.