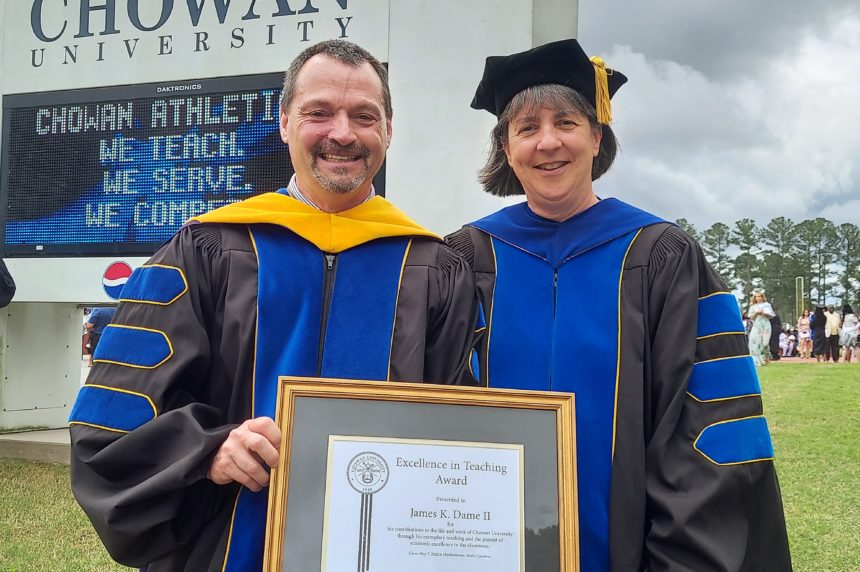 James K. "Bo" Dame II receives Chowan University Faculty Excellence in Teaching Award
May 13, 2022
by Lou Ann Gilliam
On Saturday, May 7, at the 163rd Chowan University Commencement Ceremony, Dr. James K. "Bo" Dame II was honored as the recipient of the Faculty Excellence in Teaching Awards for 2021-2022. Dr. Dame joined the faculty in 2011 and is Professor of Physical Sciences for the Department of Biology.    
During the award presentation, Provost Dr. Danny Moore shared that the criteria for this award is based on the professor's "dedication to the profession and to students, effectiveness as a teacher, continued professional growth, availability to students, participation in the University's program of extracurricular activities, and relationship with colleagues and students." Dr. Moore continued in the presentation saying Dr. Dame "exemplifies those qualities."
It is an incredible honor and surprise," shared Dr. Dame. "It is an honor to be selected by the faculty, your peers…and a surprise because we have such an outstanding and dedicated group of faculty at Chowan." Dr. Dame was chosen from a worthy slate of finalists, including Ashley Doane, Professor of Psychology, Jason Fowler, Assistant Professor of Graphic Design, Edward Synder, Associate Professor of History, and Pamela Woodard, Associate Professor of Criminal Justice.
Dr. Dame holds a Ph.D. in Coastal Resources Management/Coastal Ecology from East Carolina University, a Master of Arts in Marine Science from the Virginia Institute of Marine Science at the College of William and Mary, and a Bachelor of Science degree in Geological Sciences from Lehigh University. Prior to joining Chowan's faculty, as noted on the Chowan University website, "Dr. Dame has over a decade of experience in public lands management and environmental policy. This includes positions with the Bureau of Land Management in Alaska, as a geologist in Redwood National Park, as resource manager at Biscayne National Park, as a legislative fellow for the U.S. House of Representatives Committee on Resources, and as northern sites manager for the North Carolina Coastal Reserve."
Dr. Dame works collaboratively with the Department of Biology chair, Dr. Heather McGuire. Together, they introduce students to ecological field based research and monitoring. Their current activities include The Tall Glass of Water Project in Bertie County, which involves monitoring water quality and habitat use associated with wetland and meadow restoration activities. They also continue to introduce students to the Prothonotary Warbler Project, which entails documenting nesting activity at the University's Meherrin River Field Site, Kitty Hawk Woods Coastal Reserve, Alligator River National Wildlife Refuge, and Bertie County's Tall Glass of Water Project.
Reflecting on his role as a professor, Dr. Dame shares, "Going through graduate school and my early career I never planned to teach, it just wasn't on my radar, but I am extremely blessed that my path brought me here. For me, there is no doubt the worst part of teaching is the grading. However, that is far outweighed by the experience of seeing a student's growth at Chowan and then achieving their goals after they leave."
Dr. Moore shared "the passion and enthusiasm Dr. Dame has for teaching and displays in his classrooms and labs are worth recognizing and celebrating." Please join Dr. Moore and Chowan University in congratulating Dr. James K. "Bo" Dame II on receiving this honor.