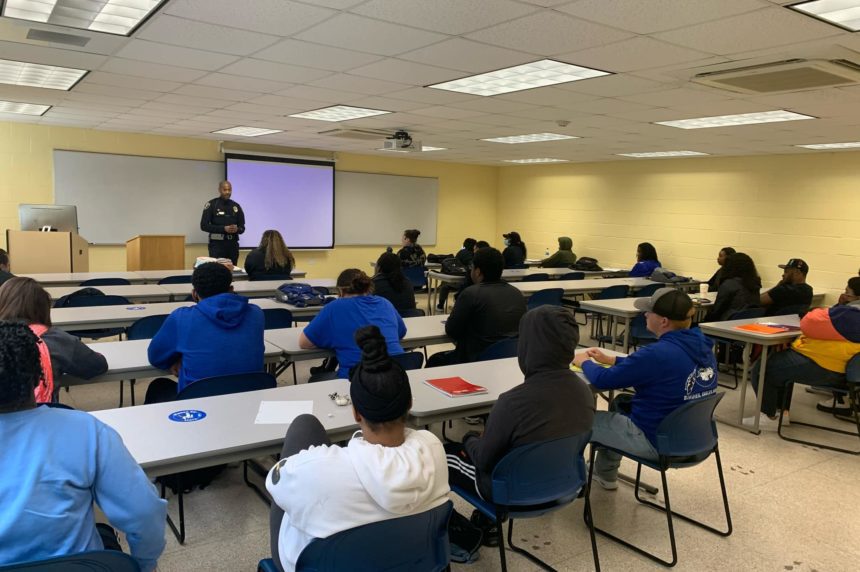 Criminal Justice Department's Guest Speaker List Keeps Growing
Mar 30, 2022
by Kim Sherman Bailey
Dr. Pamela Woodard, Chowan University alumnae, professor, and chair of the Criminal Justice Department is passionate about her students and feels that real-life experiences are vital to their education.  While she cannot always take her students to opportunities, she can bring the opportunities to them.  Dr. Woodard is eager to provide learning opportunities for her students. During any given semester, she aims to bring to campus at least five guest speakers. These speakers range from officers to agents, and this is in addition to her arranging K9 demonstrations and mock crime scene investigations. 
Most recently, she brought in Officer Dupree Foster from ChesMost recently, she brought in Officer Dupree Foster from Chesapeake, Virginia who serves as a recruiter  Chesapeake Police Department. He spoke to the seniors and students in criminal evidence and juvenile processes courses. Officer Foster began working at the age of 14, became a junior EMT, graduated high school, then immediately went into law enforcement. He spoke about the passion he has for law enforcement and recruiting and what benefits the career offers. He expressed to the group that he wanted to recruit from Chowan; because of a recent Chowan graduate now working, in Chesapeake. He cited that Chowan graduates are prepared and professional.
In a few weeks, Dr. Woodard will have a retired DEA Agent visiting campus to speak with students. Follow Chowan University Criminal Justice on Facebook to stay up to date and get a peek inside the Criminal Justice Department.