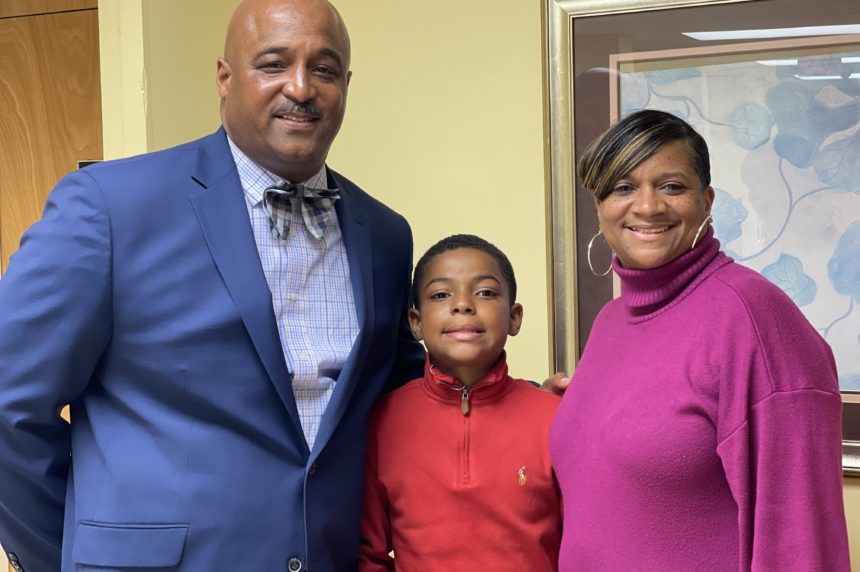 Campus Worship features Educator & Coach Darren O. Parker, Sr.
Mar 29, 2022
by Lou Ann Gilliam
On Sunday evening, March 27, Chowan Campus Ministry hosted Campus Worship, featuring speaker Mr. Darren Oliver Parker, Sr. principal of Conway Middle School. Before coming to Conway Middle, Mr. Parker was the principal of a middle school in Franklin, VA. Additionally, he was the head football coach for fourteen years where he led the team to two State Championships in 2004 and 2008.
Minister of Engagement, Calvin Carter '15 introduced Mr. Parker. Carter, a former student was delighted to have Mr. Parker for Campus Worship. He shared how Mr. Parker's focus on "faith and team" was evident in his leadership.
Mr. Parker was an inspiration to the students by sharing his faith journey in "three testimonies." In his remarks, he vulnerably shared about the storms he has had in his life have helped him grow in this faith. He passionately intertwined stories of football, family, and education as he encouraged students on their own faith journeys.
This campus worship service was titled "Ministry beyond the Pulpit" and was organized by Chowan Christian Athletes Team 4:13 who serve as peer chaplains on their sports teams. This group meets regularly with Minister to the University, Rev. Mari Wiles for training, support, and encouragement. On their respective teams, they lead devotions, offer prayers and give peer counseling.    
Members of Team 4:13 helped lead worship. Baseball player Welinton Mariano '22 opened the worship service in prayer, followed by football team member, Jaylon Boyd '23 who shared his testimony. The Wednesday Night Praise Band, comprised of Kashara Simpsons  '25, Braydon Conboy '25, Corbin Robertson'22, and Malachi Cobb'25 led in song with "My Testimony" and "Do it Again." Mr. Parker echoed the sentiments of those songs in his remarks. 
The worship service concluded with softball player Courtney Lamb'22 giving the benediction. After the evening concluded, students enjoyed a time of fellowship with snacks. Team 4:13 offered Fellowship of Christian Athletes (FCA) Bibles to anyone who needed them.
For more information about Team 4:13 or Chowan Campus Ministry, contact Rev. Mari E. Willes at wilesm@chowan.edu.