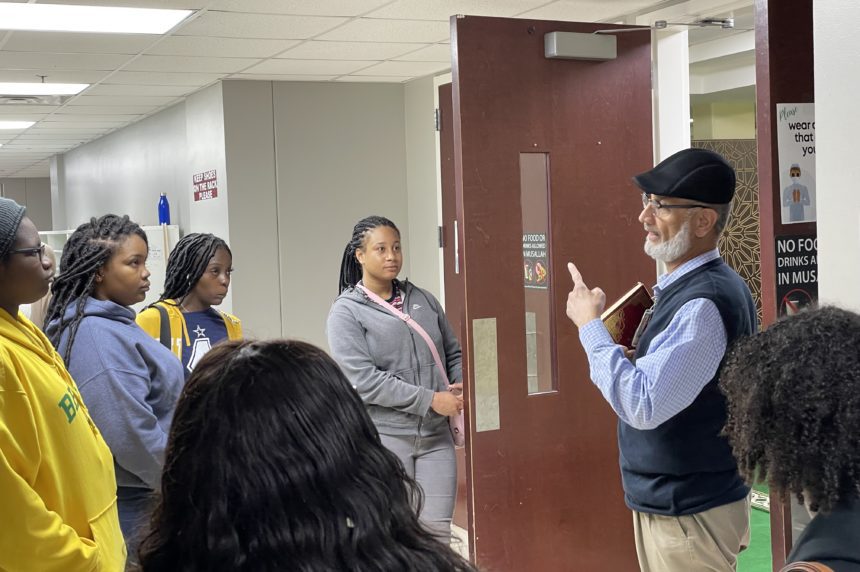 Religion Club Hosts Field Trip to Islamic Association of Raleigh
Mar 28, 2022
by Staff Reports
Paul Gilliam, Director of the Chowan University Religion Program, and Lou Ann Gilliam, Chowan University Director of Church and Community Relations, led a group of twelve students to the Islamic Association of Raleigh on Saturday, March 19. The group was met with warm hospitality, and a member of the Islamic community, Fiaz Fareed, led a tour of the facility. The tour included the school as well as the mosque proper. Students were presented with a basic introduction to Islam, stereotypes were confronted, and the group was allowed to observe the Muslim community at prayer. In addition, students were treated to a delicious Mediterranean meal of chicken, pita, hummus, samosas, and basbousa dessert.
The purpose of the trip was educational. As such, students had different motivations for learning about Islam. Some students are planning to attend seminary, after graduation from Chowan, to prepare for Christian ministry. Other students are preparing for careers in sports management, graphic design, and teaching. Yet still, others were simply curious. All participants, whatever their motivation, are now better prepared for success in our multi-cultural society as a result of added exposure to the religion of Islam.
"I was grateful that the Religion Club sponsored this event. This was a great opportunity to learn about Islam. After going on the trip, I was able to have interesting discussions with my Muslim friends" shared Brayden Conboy'25, Religion major and Chowan Christian Service Association (CCSA) Scholar.
The Chowan University Religion Program proudly pursues truth with academic integrity, academic freedom, and open dialogue in order to prepare students for a wide range of careers.